September 2021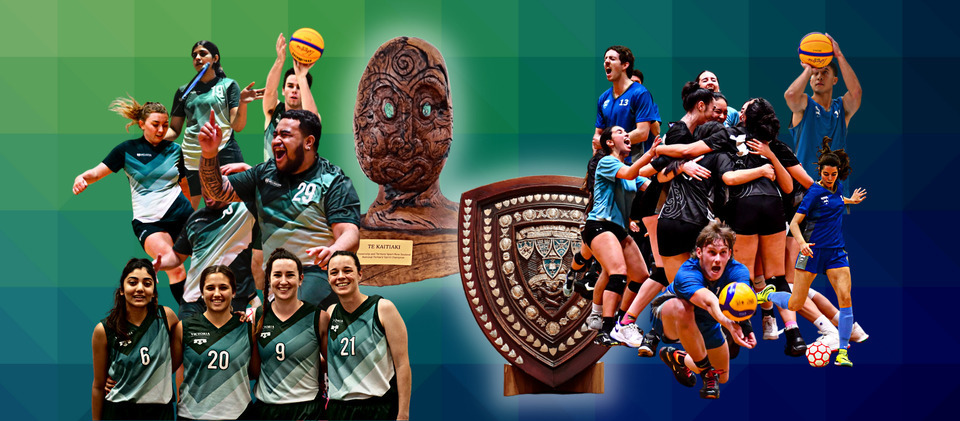 Congratulations to The University of Auckland and Te Herenga Waka - Victoria University of Wellington!
Defending champions the University of Auckland retain the title of National Tertiary Champions in 2021 and the coveted Shield following wins in three sports including the Tertiary 3x3 National Championship presented by Stuff and the National Volleyball and Badminton Championships. This saw the University finishing the year on 47 points, just one clear of the University of Canterbury who were close to ending Auckland's winning reign with two championship wins of their own, plus four runner-up titles across the year's events.

The inaugural awarding of Te Kaitiaki – the National Tertiary Spirit Champion award is also a special moment in the history of university and tertiary sport in New Zealand. Karl Whalen, Associate Director, Sport and Recreation at Te Herenga Waka—Victoria University of Wellington says they are delighted to be the very first winners of Te Kaitiaki Spirit Award in 2021. "Being competitive at every championship event is important to us here at Te Herenga Waka, but it's more important that our staff and players compete respectfully and have fun while doing so."
International Day of University Sport
Back in Lockdown, for a second consecutive year.
Our amazing Student Athlete Commission members came up with creative ways to involve their university students in IDUS which is aimed at connecting students around the globe. A focus on sport, physical activity and healthy living, the day is about bringing communities and universities together through sport.
This year was a bit different than most, but the Kahoot quizzes still went OFF!
The University of Canterbury held an online Sports Kahoot via Zoom. A warm up quiz to start off and then they headed into the main event. Around 40 people joined in, featuring one flat of seven people who ended up taking the WIN.
AUT, reminisced in their quiz throwing it back to the high school days. A real mixed-bag the questions ranged from current world champions, general sports knowledge and AUT performance results at this year's UTSNZ events.
Massey had some "stoked" prize winners, and people from a range of different sports got involved. HOW GOOD!
Waikato played dress-up, with 40 students joining online. They shared some laughs and loved connecting through a great online quiz.
The University of Auckland played Bingo through their Instagram story, with students asked to complete one or more tasks on the Bingo card.
Te Herenga Waka - Victoria University of Wellington ran a trick shot challenge through social media
Otago were lucky enough to get outside in the beautiful sunshine, starting with Ki-o-Rahi on the Museum Lawn in the morning and a group scenic run in the afternoon.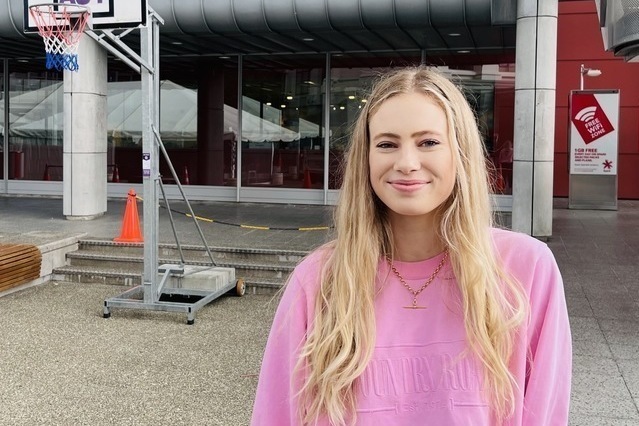 UTSNZ Intern begins job hunt with new skills and contacts
This month UTSNZ bids farewell to our Marketing Intern for 2021, AUT postgraduate marketing student Chloe Bardsley. Alongside putting together this e-newsletter every month, Chloe assisted the marketing team at the National Tertiary Badminton Championship and provided student insight to UTSNZ in a number of key areas.
With career ambitions of working in sports media and journalism, Chloe was able to use the role to sharpen her skills, uncovering student stories for Compete & Connect and providing feedback to UTSNZ in areas like social media, live streaming, and events. "I loved being able to bring the student voice and writing articles about fellow students, but also getting insight into the management of the events and the competitive environment. It was a great opportunity to mix with the best from every sport, not just the ones you are used to".
Like many aspects of 2021, Chloe's experience was impacted by COVID as she was set to play an integral role in the year-ending Basketball and Netball Championships. However, the hands-on experience she was able to gain at the Badminton Championship in August proved to be one of the most rewarding aspects of the internship, running the UTSNZ social media accounts and conducting student interviews throughout the weekend. "I loved going along to Badminton, testing my social media skills and being involved in an event that is well supported by the NSO. It was great to learn more about a sport I have not played competitively, and you quickly learn most sport environments are the same".
Chloe leaves behind a legacy that is highlighted by the development of Compete & Connect, the first time UTSNZ has produced an e-newsletter for students, by students. As we look towards 2022, UTSNZ will soon be advertising for a new intern, a role Chloe would "definitely encourage" others to apply for. "If you're a keen writer, love social media or just want to get involved in sporting events, this is a great way to add to your skillset at your own pace".
UTSNZ wishes Chloe all the best for her future and look forward to seeing her out on the sports fields and courts soon! If you're interested in the Marketing Internship, you can contact us directly by email at info@utsnz.co.nz.

Follow our socials to keep up to date with all our news and events!