Student Athlete Commission
The UTSNZ Student Athlete Commission aims to allow the voice of the student-athlete to be effectively communicated with the organisation. It provides advice to the UTSNZ Executive about issues of student sport participation and achievement, and the development of UTSNZ. The Commission also helps to build awareness of UTSNZ within member students groups and to implement student-focused initiatives.
The University and Tertiary Sport NZ Student Athlete Commission comprises of up to 11 member students. These students are:
Currently enrolled at a UTSNZ member institution at the time of election
Elected by their tertiary institution
Participants in competitive sport themselves, currently or within the last five years, ideally at a national level
Current Student Athlete Commission representatives are: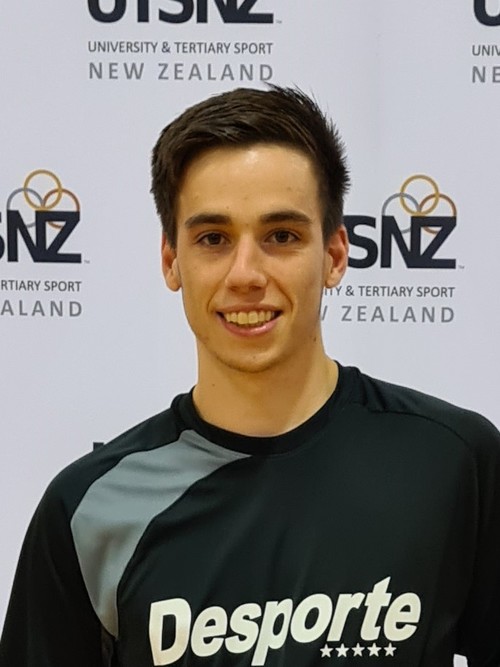 Hemi Innes (University of Canterbury)
Hemi is in his fourth year of studies doing a Bachelor of Laws and Bachelor of Science, Majoring in Geography at the University of Canterbury. Hemi's goal is to one day be an environmental lawyer. From Christchurch, Hemi has a passion for futsal and also enjoys playing football. Both sports have given Hemi opportunities to travel the world. Other interests include working out and surfing down at the local beach.
Hemi was part of the UC Futsal team that finished Runners Up at the 2021 National Tertiary Futsal Championships and was awarded the prestigious Golden Boot award. Hemi has also been selected in the NZ Futsal Whites Squad for 2021, as well as the NZ Māori Football Squad. Performing at this top level in sport and balancing studies with sport commitments has been identified by Hemi as one of his greatest achievements to date, and most enjoyable challenges. "Thankfully sport is my escape and provides for the best headspace away from studies" expIains Hemi.
Hemi is most excited about being involved with SAC to connect and work alongside other like minded people who enjoy sports and who wish to make a change for other students.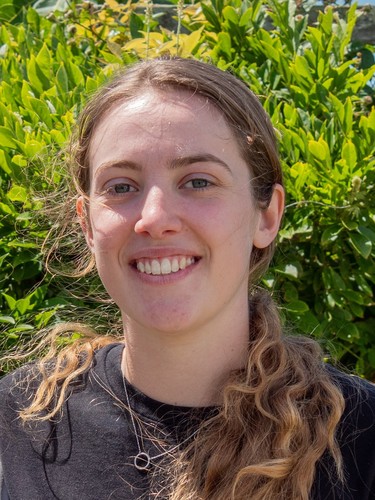 Anna-Leigh Gillies (Massey University)
Anna-Leigh finished her undergraduate degree in plant science in 2020 and has now started a masters at Massey University.
Anna has played football and cricket her whole life, loving the fitness and friends that accompany these team sports. Sport has taken her around the country for numerous tournaments and even to Australia. Futsal was introduced to her at university and since then she has joined the Futsal committee and is actively involved in organising and refereeing. She competed in the 2019 and 2021 Futsal Tertiary Championships and also plays in the Massey Women's Football first team, which provides an excellent stress reliever and escape from university work.
Anna believes Massey University has an amazing sporting culture with a good balance of social and competitive opportunities. She is excited to be part of the SAC team, is looking forward to working with other like-minded people and is grateful to be given the opportunity to voice the sporting opinions of those around her.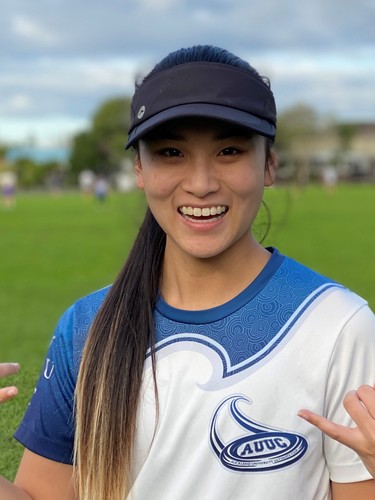 Priscilla Yiu (University of Auckland)
Priscilla is in her 5th year of university majoring in Psychology. She started off playing badminton competitively at high school and then took up Ultimate Frisbee as her main sport in first year because the university club didnt have enough female players. It was then straight to the UTSNZ National Tertiary Ultimate Championship.
Since then Priscilla has played in all divisions of the Auckland University Ultimate Club (AUUC), from starting off as a beginner to playing for both the second premier team and top team. She is now also an executive member for AUUC advocating for women in Ultimate and finding new ways to promote the sport to female players.
Balancing sport and studies, Priscilla also finds time to coach her former high school's girls Ultimate team.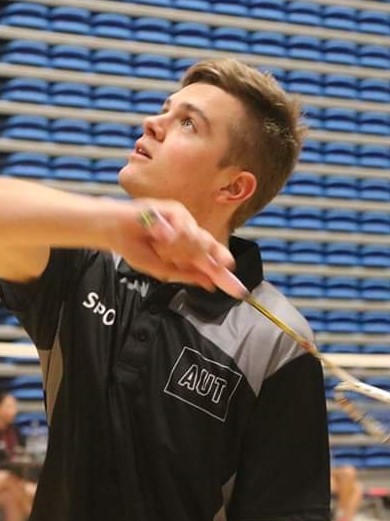 Nicholas Jarrold (AUT)
Nick is in the second year of his Bachelor of Sport and Recreation, majoring in management and minoring in coaching. Alongside his studies he is working at a basketball facility, coaching representative and school teams while also trying to find time to get involved himself! Over the years he has participated in countless sports, competing in tennis, badminton and basketball.
In 2019, Nick captained AUT at the National Tertiary Badminton Championship which he describes as a fantastic experience. The enjoyment he got from participating was one of the main reasons why he applied to be part of the Student Athlete Commission.

Nick's involvement in sports and field of study go hand in hand and he finds it rewarding to be able to apply what he is learning at university in various coaching scenarios as well as within his own training. As his knowledge and experience grows, he hopes to continue coaching and helping athletes to not only improve in their sport, but grow as people.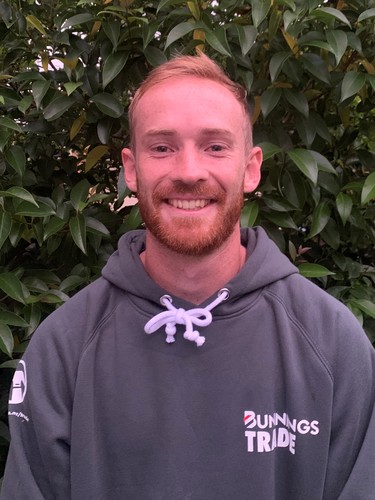 Blake Hanna (University of Waikato)
Blake is moving into his second year of a Bachelor of Health Sport and Human Performance at the University of Waikato, with the hopes of one-day becoming a high-performance coach.
Growing up in Tauranga and Rotorua, Blake spent much of his early years playing football. He then took up volleyball and now competes for the Hamilton Huskies as a setter. Blake was also a member of the University of Waikato men's volleyball team that participated in the 2021 National Tertiary Volleyball Championship.
Blake enjoys mixing sport and university, this allowing him to experience new and different opportunities, as well as providing the chance to meet new people and enjoy good competition.
Blake is a people-person who enjoys networking, so he is looking forward the opportunities that this role will provide alongside completing his studies.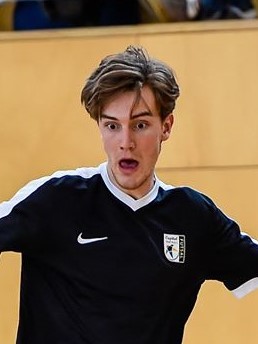 Tom Withnall (Victoria University of Wellington)
Tom has been playing futsal now for 7 years and it has taken him around the world. He has twice represented NZ with the men's university team having traveled to Brazil in 2016 and Kazakhstan in 2018 for the World University Futsal Championship. The game has also led to an employment opportunity as he is the Futsal Development Officer for Capital Football.
Tom is in his fifth year of studying law, politics and psychology at Victoria University of Wellington and he greatly values the impact sport has had on his ability to learn. "Sport and study have always been complimentary for me as they provide a great break from each other, especially during stressful times like study week."
As with any student-athlete, Tom has to play the delicate game of managing his time between study and sport. "Sport is such a good way to get out of your head, although sometimes I find it difficult to balance the two when I have late trainings and early lectures!"
Once he finishes his degree Tom plans to volunteer in South America for about a year before looking to become a police officer in Wellington. Alongside playing futsal, he enjoys coaching it, hiking and meditating.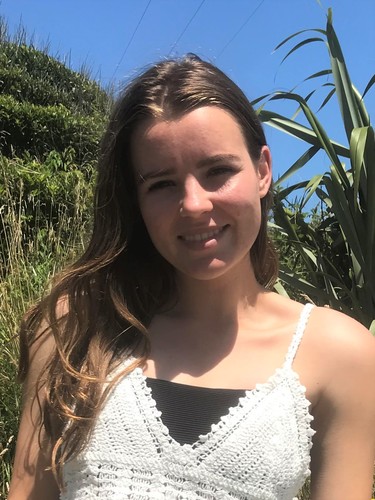 Maggi Johnson (University of Otago)
Maggi is in the third year of her Bachelor of Applied Science, majoring in Sport & Exercise Nutrition at the University of Otago.
On top of her studies, Maggi works at the University gym (Unipol) taking spin classes. She also works as a fitness leader at the gym and on the front desk.
Maggi is a keen triathlete and is currently training towards a mountain run, full marathon and two half ironmans. When not studying, most of her time is spent swimming, cycling and running and she is coached by former Olympic triathlete Tony Dodds. She also enjoys trail running and has developed a love for endurance sport after growing up in Greymouth on the West Coast of the South Island. Maggi grew up competitive swimming, and won her first half marathon in the under 20 category at age 14.
Maggi will be undertaking her Masters in Advanced Nutrition commencing at the beginning of 2021 and hopes to one day work with sports teams in the field of nutrition.
The Lincoln University student representative role is currently vacant. If you are a LU student and interested in applying please contact LU Sports Manager Peter Magson peter.magson@lincoln.ac.nz