AUT to host FISU Oceania 3x3 University World Cup Qualifier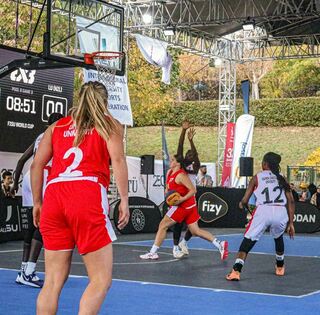 University and Tertiary Sport New Zealand (UTSNZ) is excited to confirm that the FISU Oceania 3x3 Continental Qualifying Tournament will take place at AUT's Te Āhuru Recreation Centre in the City Campus on the 21st and 22nd of July.
New Zealand and AUT will welcome teams from the Oceania region for the tournament that will determine the top men's and women's 3x3 teams who will then go on to represent both Oceania and their university on the world stage at the 2023 FISU 3x3 University World Cup.
Played over two days, teams from the Oceania region are invited to compete in the men's and women's qualifying competitions. Teams must have attended their respective National University 3x3 Basketball Championship Tournament to be eligible.
New Zealand has been granted two men's and two women's spots in the tournament. These will be given to the two teams that progress to the grand final of this year's UTSNZ National Tertiary 3x3 Championship to be played in April.
Australia and New Zealand teams will be top favourites to take out the FISU Oceania Qualifier with Lincoln University (NZL), Macquarie University (AUS) and University of Waikato (NZL) representing FISU Oceania at last year's FISU 3×3 University World Cup in Turkey.
Lincoln University represented Oceania in the women's competition and Macquarie University in the men's after being confirmed the top qualifiers in the 2022 FISU Oceania qualifying process. The University of Waikato men's team were awarded a wildcard entry into the tournament via the FISU wildcard process.
UTSNZ and AUT, with the support of BBNZ, are excited to be able to work together with FISU Oceania to host the event with the FISU University World Cup 3x3 event becoming one of FISU's most exciting and popular sports events.
Details for the FISU Oceania 3x3 Qualifying Tournament are as follows:
Date: Friday 21 and Saturday 22 July 2023
Location: Te Ahuru Recreation Centre, City Campus, AUT
City/country: Auckland, New Zealand
3x3 Basketball on the FISU sports programme
FISU's history in the 3x3 game goes back to just about the official start of the sport itself in 2010; both the first and second FISU World University 3x3 Basketball Championships were attributed in May 2011 to the National University Sports Federation of Serbia and of Brazil, respectively. In 2012 the championship took place in Kragujevac (SRB), 2014 in Salvador (BRA), and from 2015 onwards in Xiamen (CHN). In 2022, it was moved to, and held, in Istanbul (TUR).
3x3 Basketball is a game anyone can play, anywhere in the world. With teams composed of three players, plus one possible substitute, it is easy to field a team. All you need is a hoop, a ball, some team-mates and a little competition. A tournament can take place on concrete, asphalt or an existing/temporary court. There's no halftime, no quarters, and the energy levels are at the maximum.
The sport is tailor-made for university students and student-athletes are helping take this format of the game to new heights.
Each game lasts a maximum of 10 minutes. There's a 12-second shot clock, ensuring teams take risks by attacking the rim and launching shots deep beyond the perimeter.
FISU are currently in discussion with the Federation of University Sports of China (FUSC), the OC of the FISU World Cup 3x3 Basketball, and the Saudi Arabian University Sports Federation in relation to the location of the 2023 FISU 3x3 University World Cup with the event hoped to be played in either China (XIA) or Riyad (KSA) in October.
More on FISU and the FISU 3x3 University World Cup programme here.
Posted: Thu 30 Mar 2023