2019 dates beckon for keen tertiary student-athletes to make their mark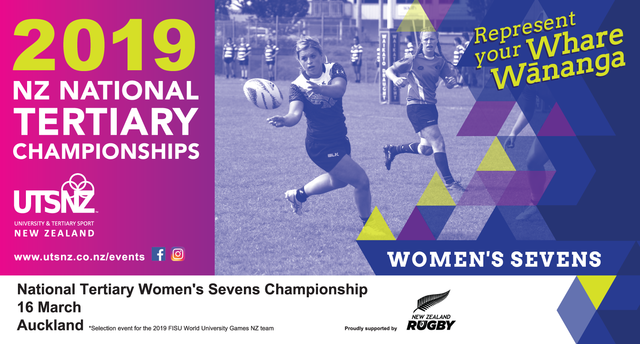 The University and Tertiary Sport NZ 2019 National Tertiary Championship calendar for next year has been finalised. In partnership with nine National Sporting Organisation partners, ten sporting competitions will take place between Whare Wānanga | tertiary institutions up and down Aotearoa New Zealand between March and September.
It is expected that over 1,200 tertiary students from New Zealand universities, institutes of sport, and institutes of technology will compete at the top level in:
Teams will compete for an historic inter-tertiary prize. The 95-year-old University and Tertiary Sport Shield will be presented to the tertiary institution which accumulates the most points from competing in the 2019 series. In 2018, the University of Auckland won this award.
Points of difference in this year's calendar include:
For the first time, the national secondary and tertiary badminton championships will be held together in a festival event at the Te Rauparaha Arena in Porirua. See the media release here.
In 2019 three more national champs will act as pathways to international representation for the top players
- In addition to the 3x3 basketball and futsal pathways promoted in 2018, the women's sevens and table tennis champs will be a selection event for the FISU World University Games taking place in July.
- The ultimate champs are confirmed as a selection event for NZ Ultimate national squads in the following year.
The NTC will go to Tauranga for the first time for the futsal champs in April.
UTSNZ Executive Director Sarah Anderson says that tertiary students benefit greatly from the opportunity to represent their institution as well as make social networks, broaden their tertiary experience and develop new skills.
"Tough games aside, these championships also foster university pride and a sense of identity. Students tell us that while strong competition is important to them, they love the team culture, the chance to make new friends and cement existing ones, being able to play against other tertiary students and the awesome atmosphere that creates," says Anderson.
University of Auckland men's volleyball team member and Bachelor of Education student James Anderson agrees:
"Playing sport at university has meant I am able to continue my passion for volleyball while studying. The experiences, relationships and memories I have formed have greatly enhanced my time at university and have ensured that I have been able to maintain a good healthy balance."
UTSNZ would like to acknowledge the support of: Basketball NZ, NZ Ultimate, Netball NZ, Table Tennis NZ, Badminton NZ, NZ Futsal, Rugby NZ, Volleyball NZ and Hockey NZ.
Follow up
The posters, postcards and online artwork promoting these events have been shared with UTSNZ members and partners. If you would like access to these please contact Executive Director Sarah Anderson.
If you are a student and interested in taking part, please contact your tertiary sport department to register your interest.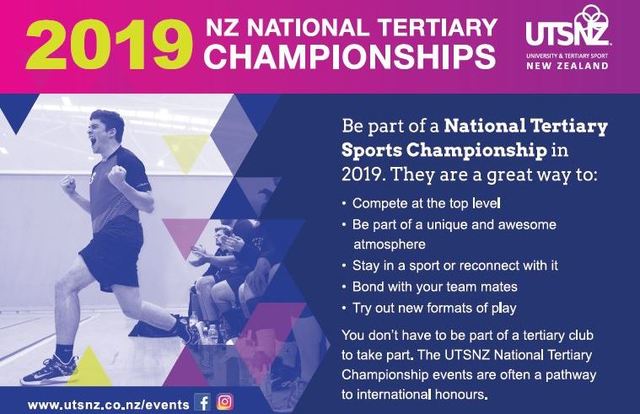 Posted: Tue 11 Dec 2018