Media darlings, shoot-out legend and almost-medalists: the NZ 3x3 uni world campaign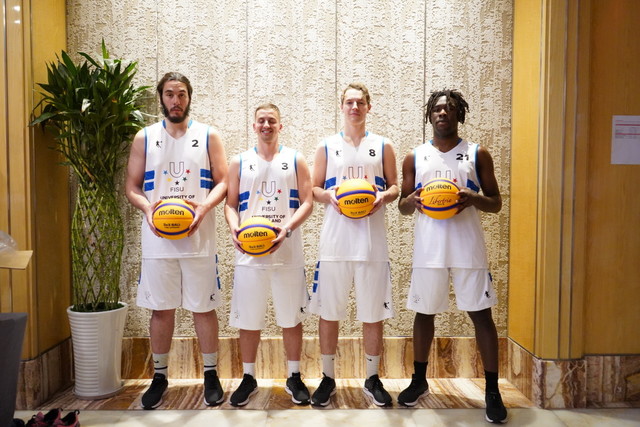 For four days in November the 3x3 FISU World University League finals took over China's Huaqiao University and the world got to see the best 32 university teams tustle. The 3x3 FISU WUL Finals were contested by qualifying teams from Oceania (including two from New Zealand), Asia, Americas, Africa and Europe and watched by thousands globally. In other words, it was big.
The University of Auckland men's team qualified for the first time for the League since its inception in 2016 when their women's team won the right to compete. This time they were represented by Lis Haraqia, Samuel Aruwa, Zac Easthope and Shay Graham.
The team played the Faculty of Technology of Alagoas (Brazil), Ndejje University (Uganda), and Payame Noor University (Iran) in pool play. They won two out of three matches to play off against local Chinese team Civil Aviation University. After trailing the whole game, they won in the final minute. Beating a local team meant that the Chinese crowds started to take notice of the boys from down under.
This performance also meant they were the first NZ team to have made it to a quarter final ever at this tournament. They were up against a very strong, athletic German team in the University of Göttingen. Another close game got everyone's heart racing and in a surprise result, Auckland just managed to hold on in the final seconds.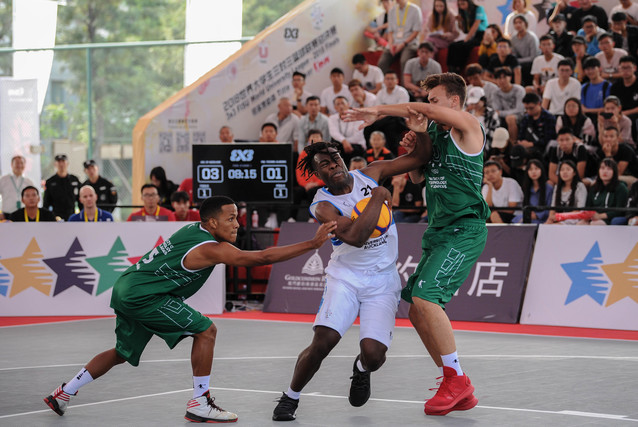 In the semi-final UoA fought 2016 champions McGill University. A close loss there, followed by another in the 3/4th playoff saw Auckland just miss out on a bronze to Lithuania's Vytautas magnus University.
"It was an unbelievable and unforgettable week," said Auckland's point guard Lis Haraqia.
"The atmosphere, the people and the level of competition made it an experience I could only have dreamed of. I'm going to do everything I can this summer to make sure we get back there next year and do even better than we did this year!"
Lincoln University was represented by three players who had been in Xiamen before, for the 2017 League – Connie Poletti, Caitlin Grice and Sophie Schrader. They were joined by first-year student Ajiah Pepe.
While the team felt they were better prepared this year, and as prepared as they could be, they found that their early leads in all games didn't translate to final points on the board.
First up was the University of Physical Education from Hungary which saw the Lincoln team go down by just 1 in overtime. Their confidence high, they then went on to lose by 3 to Senegal's ISEG and more convincingly to eventual winner Tsinghua University (China). Qualifying bottom of their pool they came up against the favoured Chinese Culture University. The team were pleased with their close-fought game against the eventual bronze medallists.
On a personal highlight and alongside the main team draw, Ajiah Pepe entered the Shoot-out competition:
"I was feeling excited and quite confident in myself to do okay until the night before the shoot-out. That's when the nerves kicked in and I couldn't believe what was I about to do."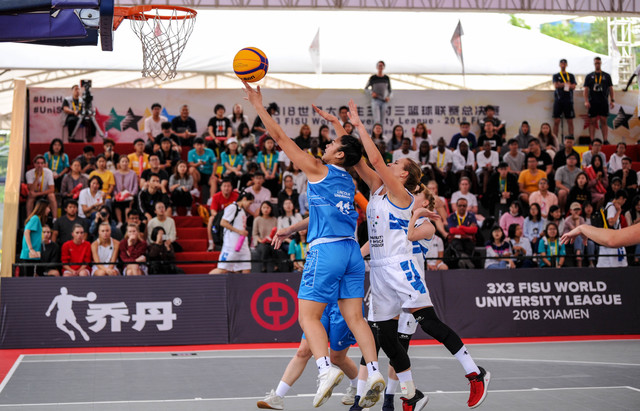 Ajiah's self-confidence paid off, with the commerce student qualifying first out of all competitors entered. In true perfectionist style all she could think about was "how I could've made 8 shots instead of 7 if I didn't step on the line."
In front of a full finals crowd Ajiah ended up 4th overall:
"With the finals being held in the evening, the lights looked even brighter and all the emotions of nerves, adrenaline and excitement hit me that much harder. The crowd, the MC's, the bright lights, music and cameras can be quite overwhelming but I just tried to stay locked in and shoot the basketball as best I could. Unfortunately, I didn't have the legs to push me through in the finals but it's an experience I'll never forget and I'm glad I participated," said Ajiah.
Lincoln University manager Hoani Smith reflected on the team match ups:
"Being up against bigger, stronger players meant we had to move harder and faster than ever before. It was a challenge to step up for our ladies as they are the best in New Zealand so it is a jump to this style of play at international level. We were stoked with our performance but I hope we can create more chances next year for NZ qualifiers to play internationally in the six months in between the qualifying and competition events to bridge this gap."
The hype around the tournament was massive. As the New Zealand teams were the first to arrive, they got photographed and interviewed by FISU media upon arrival. The games were shown on the Olympic Channel and Chinese television.
"Honestly, I felt like a bit of a celebrity in China! Hearing my name over the commentary and being asked to have photos taken just added to the overall hype and excitement of the tournament," agreed Ajiah.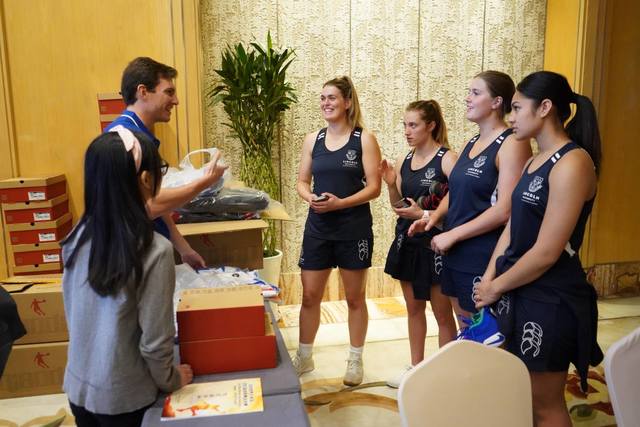 In a step outside their comfort zone, Lincoln's support staff of coach Josh Thompson and manager Hoani Smith both got to commentate on the FISU livestream video feed. Josh did it for the men's final which was incredibly nervewracking but "we were briefed that we could say anything so long as we didn't swear" said Hoani.
Tiwai Wilson, the University of Auckland manager said one of the challenges was being the only person in the crowd actually cheering for their team.
"The crowd was huge and buzzing but they were enjoying all the hype and entertainment and were supporting both sides in our final few matches. They just cheered a good play. Whereas I was sitting there so nervous and excited, living and dying on each shot or miss. It was a very surreal experience!"
The team made many friends and used the time to talk to other coaches about their preparation strategy and find out how they think. At the final dinner in front of the FISU President, officials and hundreds of other ballers, the NZ managers and coach explained and performed a haka. They may not have come back with a medal but they sure know how to make the most out of an opportunity to #representNZ.
Posted: Tue 04 Dec 2018