Improved NZ representation to take on a Euro-dominant draw at World Futsal Champs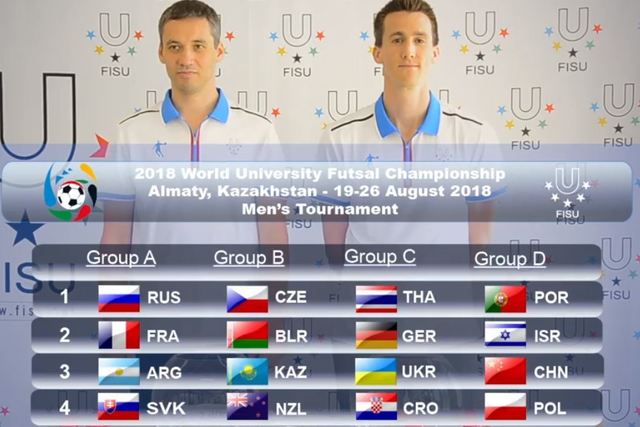 While the claim to world's best men's 11-a-side football team is being hotly contested in Russia right now, the NZ football community has another world competition to look forward to just down the road in Kazakhstan.
The draw for the 2018 FISU World University Futsal Championship has been released and one can only guess at what drama and excitement is in store for New Zealand's men's and women's tertiary futsal teams come August!
See the video for FISU's actual live draw, but if you don't have 12 minutes to spare – here's how the groups will look:
Men
Group A Group B Group C Group D
RUS CZE THA POR
FRA BLR GER ISR
ARG KAZ UKR CHN
SVK NZL CRO POL
Women
Group A Group B
RUS POR
CAN NZL
UKR KAZ
ISR FRA
POL
Both New Zealand teams will be facing the home nation of Kazakhstan in their group which will guarantee large, parochial crowds.
The men will also face two European nations in pool play; the 2016 bronze medallists Czech Republic and Belarus.
Men's coach Marvin Eakins said the champs feature strong futsal nations, including many countries that have professional futsal leagues at home and some tertiary players that are professionals. The fact that the men's competition has grown by a third from 2016 shows how quickly the sport has developed.
"There is no easy group. For example – many people may not realise but Kazakhstan's senior men's team is ranked 8th in the world," says Eakins who is also the Futsal Whites coach.
"We are really excited to face such quality teams. Six of our guys have just played the CFA International Futsal Tournament last week, where they played the likes of China, Russia and Vietnam, so that was great preparation."
"We are definitely looking to improve on two years ago. We'll be doing everything we can to get out of pool play."
The women will also take on France and 2016 bronze medallist Portugal. With there being no women's worldwide futsal competition at the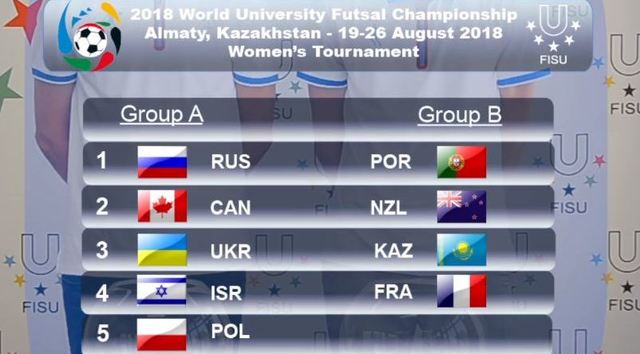 senior level coach Nic Downes said it is tricky to comment on what the teams will look like, other than to guarantee "that all the games will be really hard".
Downes, the current Futsal Ferns coach, attended the 2016 World University Championships in Brazil and is glad to face Kazakhstan again:
"We drew 2-2 with them last time so we'll be looking forward to that rematch."
"We've definitely improved a lot in the last two years. It will be interesting to see how these champs pan out, with a lot of the South American teams not featuring this time it will be very European-dominant."
Both coaches acknowledge that they have learned from New Zealand's 2016 World University Championships experience – as well as changing their selection process this time around, both are holding training camps so they have time to get used to playing with each other before they fly.
Background
See the selected New Zealand teams announced back in April.
Posted: Mon 02 Jul 2018