National Tertiary Basketball Championship: Christchurch Hosts Thrilling Tournament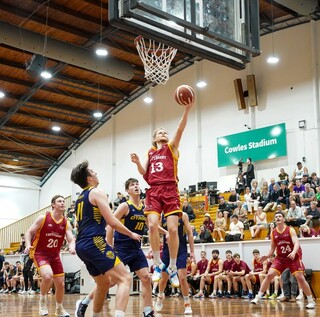 The National Tertiary Basketball Championship, held from September 15th to 17th, brought an electrifying atmosphere to Cowles Stadium in Christchurch. The tournament featured the country's top university basketball teams, each vying for supremacy in this highly competitive event. Over three days of intense action, students and spectators alike witnessed thrilling games, outstanding performances, and nail-biting finishes.
Day 1: Opening Tip-Off and Pool Play
The tournament tipped off with high expectations, and it did not disappoint. On the first day, teams clashed in a number of exciting matchups. In the men's draw the opening clash saw Massey University (Massey) face off against northern rivals Victoria University of Wellington (VuW) in a game that set the tone for the event. Meanwhile, the women's competition saw a series of North vs South clashes with LU first up against the University of Waikato (UoW) and Massey University (Massey) vs Otago in Pool B.
Day 2: Semifinal Showdowns
Day 2 of the tournament witnessed the semifinals, with four teams battling for a spot in the championship game in both the men's and women's tournaments.
In a heated contest, the University of Canterbury (UC) men's team defeated the University of Auckland (UoA) 69-56. The second semi-final saw the University of Otago (Otago) beat AUT 90-74, with Dallas Hartman leading the points scoring for his Otago side.
In the women's semifinal match-ups, Lincoln University (LU) narrowly edged out AUT winning in the last second of the game with an extraordinary match winning 2 point bucket from Rosalia Samia. In the other semi, Otago continued their impressive run, defeating UC 86-66. Their balanced scoring attack, with four players in double figures, proving too much for the UC women to handle.
Day 3: Championship Glory
Day 3 and the stage was set for the championship games, featuring UC against Otago in the men's final and LU also up against Otago in the women's competition.
The men's championship lived up to its billing as an exhilarating contest. UC backed by their home crowd, secured a comfortable 74-60 victory over Otago. Aidan Tonge once again leading the points for his team and earning the tournament's Most Valuable Player award.
In the women's final, a strong Otago side eased to victory over the LU women in a convincing 75-58 win, with Otago's Tyler Mitchell named Tournament MVP.
Both finals were a fitting end to a captivating tournament in Christchurch.
Individual Awards
With South Island universities dominating the finals, it was no surprise to see strong representation from Otago, LU and UC in both the men's and women's All-Star teams and MVP selections.
Congratulations to the following players selected for individual awards:
Men's All-Star Team and MVP
Aidan Tonge - (Tournament MVP) - University of Canterbury
Zachary Hannen - University of Canterbury
Robbie Coman - University of Otago
Reuben Fitzgerald – University of Auckland
Zach McKenzie – AUT
Women's All-Star Team and MVP
Tyler Mitchell - (Tournament MVP) - University of Otago
Caitlin O'Connell - University of Otago
Laura Jackson - University of Canterbury
Lauryn Hippolite – University of Canterbury
Trinity Paeu - AUT
Final Standings
Men's Results:
1st University of Canterbury
2nd University of Otago
3rd University of Auckland
4th AUT
5th Victoria University of Wellington
6th Lincoln University
7th Massey University
8th University of Waikato
Women's Results:
1st University of Otago (combined)
2nd Lincoln University
3rd AUT
4th University of Canterbury
5th University of Auckland
6th Massey University
7th University of Waikato
Re-live all the action here on UTSNZ TV and all competition photos are available via the UTSNZ Flicker account.
Posted: Thu 21 Sep 2023