National Tertiary Futsal Champions Crowned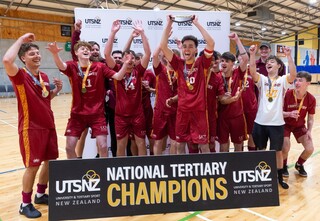 The finals of the 2023 National Tertiary Futsal Championships were played at Central Energy Trust Arena in Palmerston North on Sunday 27th of August, bringing four action-packed days of futsal to a close.
University of Auckland beat Victoria University of Wellington in the final of the women's competition, becoming Champions in 2023 after finishing as runners up in 2022. In a low-scoring affair, it was Victoria University of Wellington who took an early lead thanks to a Milla Green strike only three minutes in. The Aucklanders fought back however, finding the net twice in the second half through Amy Waters and an Alosi Bloomfield penalty to claim the title.
The University of Canterbury men are back-to-back National Tertiary Champions after beating the University of Waikato in a fantastic final match that went down to the wire. Waikato scored the first three goals, with Canterbury getting one back before half-time. It was a relatively quiet start to the 2nd half before a frantic four minutes of action saw Waikato holding on to a slender 4-3 lead. Canterbury's fight and desire eventually shone through, with Hemi Innes and Charlie Bayly scoring in the dying minutes to defend their title from 2022.
Thanks to New Zealand Football for helping host another brilliant National Tertiary Futsal Championship!
Watch back all the action including highlights of the two incredible finals on the NZF YouTube channel.
INDIVIDUAL ACCOLADES
There were some amazing individual performances over the 4-day tournament, and UTSNZ and NZF would like to recognise some of those outstanding players:
Award winners:
Most Valuable Player:
Men's – David Vhavha, University of Waikato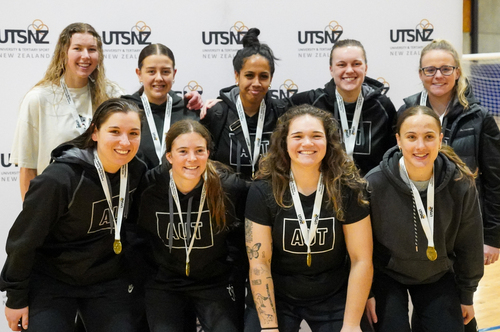 Women's – Jordana Bremner, University of Auckland
Golden Boot
Men's – Amer Akbar, AUT
Women's – Hannah Reddy, AUT & Jordana Bremner, University of Auckland
Golden Glove
Men's – Fazeel Aqil, University of Waikato
Women's – Kenzie Falco, University of Canterbury
Team Spirit
AUT Women's Team
FINAL PLACINGS
Men's
1st University of Canterbury
2nd University of Waikato
3rd Victoria University of Wellington
4th University of Auckland
5th AUT
6th Massey University
Women's
1st University of Auckland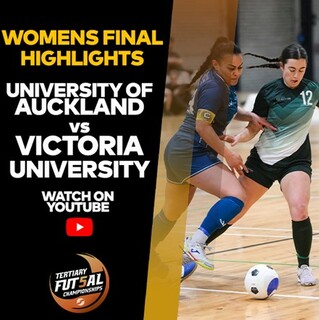 2nd Victoria University of Wellington
3rd University of Canterbury
4th AUT
5th University of Waikato
6th Massey University
More photos, highlights and information about the National Tertiary Futsal Championship here.
Posted: Thu 31 Aug 2023