FISU World University Championship Programme 2024: Anticipation Builds as Invitations Begin to Roll Out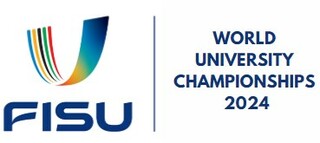 With international hosts confirmed and planning well underway for the FISU World University Championship (WUC) Programme in 2024, anticipation is high as invitations for participating nations begin to be distributed.
The FISU World University Championship events, held every two years, bring together talented student athletes from university and tertiary institutions worldwide to compete in various sports. In order to best serve the university sports community, the FISU World University Championships programme includes both individual and team sports, indoor and outdoor sports, combat sports and mind sports, with different 19 sports currently on offer in 2024.
New Zealand has been an active participant in the FISU World University Championship Programme through University and Tertiary Sport New Zealand (UTSNZ) since 2016, participating in World University Championships of Beach Volleyball, Esports, Futsal, Karate, Mind Sports, Orienteering, Rowing, Rugby Sevens, Squash, Sport Climbing Triathlon, Waterski and Weightlifting.
Winning several medals and earning accolades for their sportsmanship and determination, New Zealand student athletes have made the nation a respected contender on the international stage and have left a lasting impression with their dedication and sportsmanship.
In the year 2016, kiwi student athlete Barney Gill demonstrated his prowess in martial arts securing a Bronze medal in the Kumite 67kg category at the World University Karate Championship in Braga, Portugal.
In the same year at the World University Futsal Championship played in Brazil, both the New Zealand men's and women's teams were honoured with the prestigious FISU Fair Play Award, recognising their exemplary sportsmanship and spirit of fair competition.
Furthermore, New Zealand Rowing made its mark as Corey McCaffrey and Louis van Velthooven claimed a Silver Medal in the Men's Pair category at the World University Rowing Championship in Poznan, Poland.
Fast forward to 2018, New Zealand student athletes continued to shine adding to the collection of World University Championship medals. At the World University Rowing Championship, Harrison Somerville emerged victorious, securing a Gold Medal in the men's lightweight single sculls category, while Amy Mills and Georgia Allen earned a Bronze medal in the women's double sculls, further affirming the New Zealand's prowess in university rowing.
Additionally, Tim Robertson claimed a Gold Medal in the men's sprint distance at the World University Orienteering Championship, a testament to his excellence in this niche sport.

As the invitations for the 2024 FISU World University Championship Programme begin to roll out, national sporting organisations (NSOs) across New Zealand will be advised of official details for relevant events they are eligible to participate in. Where the World University Championship aligns with the NSO's competitions pathway they can then register, identify potential candidates and prepare them for the competition ahead, providing a platform for young Kiwi athletes to once again shine on the international stage.
For students who dream of representing New Zealand, and who are transitioning from junior to senior competition, this is a golden opportunity to showcase their talent and make a mark in the world of university sports. Aspiring athletes are encouraged to stay alert for announcements from UTSNZ and their respective NSOs for detailed information about the selection process and participation process.
Overall, with the 2024 programme taking place in multiple host cities across the globe, athletes and spectators alike can look forward to an exceptional showcase of camaraderie, competition, and cultural exchange.
FISU World University Championships confirmed for 2024:
Ski Orienteering – 12 January in Lenzerheide (SUI)
Cross Country – 17-18 February in Muscat (OMA)
Speed Skating – 22-25 February in Hamar (NOR)
Finswimming – 26-27 April in Manizales (COL)
Cycling – 29 May-2 June in Cartago (CRC)
Sailing – 6-10 June in Desenzano del Garda (ITA)
Futsal – 10-16 June, in Shanghai (CHN)
Mind Sports – 25-30 June in Kampala (UGA)
Squash – 1-7 July in Johannesburg (RSA)
Rowing – 4-6 July in Rotterdam (NED)
Powerlifting – 23-27 July in Tartu (EST)
Orienteering – 1-5 August in Bansko (BUL)
Cheerleading – 2-4 August in Split (CRO)
Golf – 27-30 August in Kuortane-Seinäjoki (FIN)
Triathlon – 30-31 in Gdansk (POL)
Sport Climbing – 5-8 September in Koper (SLO)
Shooting Sport – 9-13 November in New Delhi (IND)
Modern Pentathlon – June (dates to be announced) in Kaunas (LTU)
Beach Volleyball – September (dates to be announced) in Maceió (BRA)
For more information on the FISU World University Championship Programme visit https://www.fisu.net/sport-events/fisu-world-university-championships or contact info@utsnz.co.nz
Posted: Mon 31 Jul 2023