AUT and the University of Waikato claim Volleyball Crowns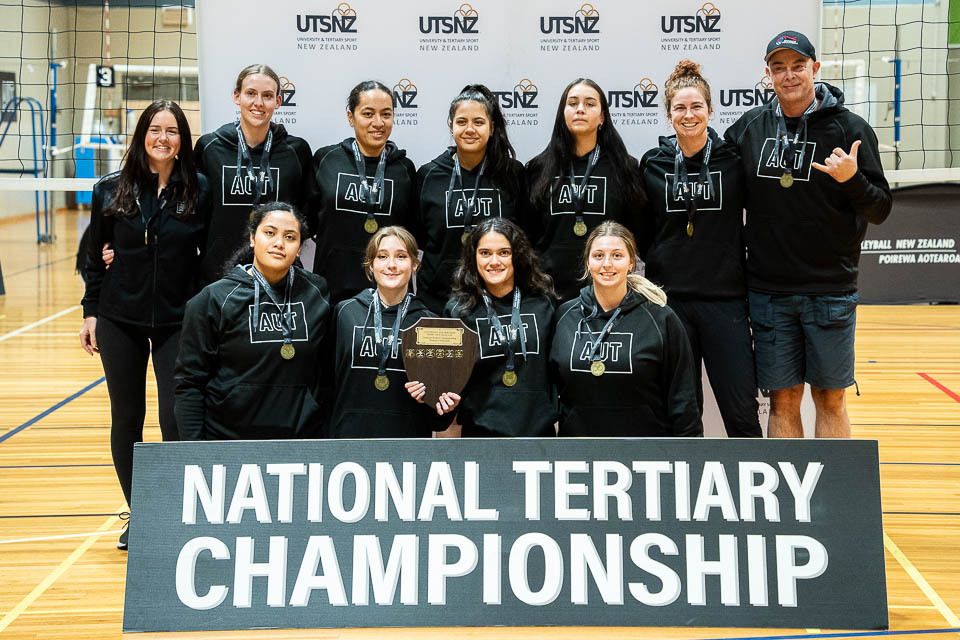 AUT made the most of the opportunity to host the 2023 National Tertiary Volleyball Championship, winning the women's grand final over their local rivals from the University of Auckland. In a tense match that had the local crowd on the edge of their seats, UOA made the first move by taking the first set 25-16. Down 19-16 late in the second set, AUT clawed their way back into the match to take the second, tying things up at 1-1. The hosts then went on an unstoppable run to the delight of the spectators, winning the next two sets to claim the match and the championship title.
The AUT men were also strong all weekend earning a podium finish after winning an epic 5-set bronze medal match over one of the other tournament favourites, Victoria University of Wellington. Both teams were on form during pool play and looked to be challengers for the medals, with the two teams eventually coming across each other in the 3rd place match after being knocked out by dominant teams from the University of Auckland and University of Waikato.
The grand final was a replay of the final pool match from the previous night, which the University of Auckland had won comfortably 3-1. Looking to go one better than their women's team, the UOA men hoped to repeat their Saturday night performance and to take out the title. The men from Waikato had other ideas however, winning the first and second sets to take full control of the final. UOA made it a contest by winning the third set and looked like they had the fourth wrapped up at 24-18, but Waikato rattled off 8 straight points thanks to the serve of Jack McManaway and strong hitting from Tyran Gillespie to steal the set and with it, the gold medals.
Thanks to everyone involved in what was another exciting National Tertiary Volleyball Championship. You can check out the full list of results below, or re-watch the court one live stream right here on our YouTube channel: https://www.youtube.com/@utsnz/streams
Women:
1st AUT
2nd University of Auckland
3rd Massey University
4th University of Waikato
5th Victoria University of Wellington
6th University of Canterbury
7th UOAVC Invitational
8th AUT Invitational
Finals MVP – Anaya Cole
Men:
1st University of Waikato
2nd University of Auckland
3rd AUT
4th Victoria University of Wellington
5th University of Canterbury
6th Massey University
7th Auckland Invitational
8th AUT Invitational
Finals MVP – Jack McManaway
Spirit Award – Massey University men
Posted: Mon 17 Jul 2023