Volunteers Play Integral Role in UTSNZ Workforce Development Programme Promotion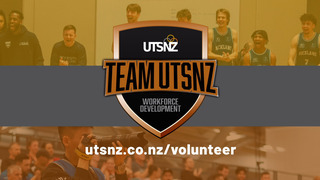 In an enthusiastic display of creativity and teamwork, volunteers from University and Tertiary Sport New Zealand (UTSNZ) have joined forces to help produce an engaging and informative 'Team UTSNZ' Workforce Development Programme promotional video.
UTSNZ firmly believes that sport plays a vital role in shaping well-rounded individuals who possess the qualities and attributes sought after by employers in today's dynamic job market.
'Team UTSNZ' is a workforce development programme that aims to connect passionate and talented students wanting to put their studies to practical use with volunteer roles, both nationally and internationally. The programme caters to a variety of roles and vocational skill development including photography, journalism, event management, marketing and social media. It provides students with opportunities to acquire and enhance essential skills that are in high demand in the job market such as communication, problem-solving, leadership, teamwork and critical thinking, all in a safe and attractive environment supported by their peers.
With the aim of promoting the programme, UTSNZ set out to create an inspiring video that resonates with students across the country. Recognising the significance of visual storytelling in capturing the essence of the programme, as well the need for an engaging video resource that highlights the numerous benefits of being involved, UTSNZ recruited a number of student volunteers to help spread the word.
Being a part of the production and creation of the new 'Team UTSNZ' workforce development video was an absolute blast! It was satisfying to reflect on my own volunteering journey and to know that my experience might resonate and help inspire others" - Phia Nem – Social Media Volunteer.
"Volunteering with UTSNZ and the opportunities it created was definitely a highlight of my time at university and something I would recommend. Helping promote the 'Team UTSNZ' programme was a nice way to give back and I felt proud contributing to something meaningful and impactful"- Jason Nel – Marketing Volunteer and FISU Volunteer Leader Academy representative.
UTSNZ wishes to express its thanks to the students involved, as well as the team at Storylight Limited. Thanks also to the International Federation of University Sport (FISU) for their support through the allocation of FISU Project Funding. FISU's commitment to the development of university sport globally continues to allow UTSNZ to provide valuable resources, initiatives and opportunities to the New Zealand student community.
Download more information on the UTSNZ Workforce Development Programme here or visit www.utsnz.co.nz/volunteer
Posted: Tue 27 Jun 2023