UTSNZ Joins Sport for Climate Action Change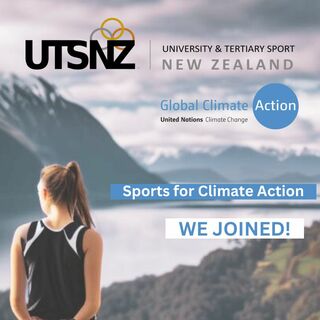 University and Tertiary Sport New Zealand (UTSNZ) is thrilled to announce its participation in the global initiative, Sport for Climate Action Change. As an organisation committed to well-being and the future of sports, UTSNZ is dedicated to driving sustainable practices within the university and tertiary sport sector.
Sport for Climate Action Change, launched by the United Nations Framework Convention on Climate Change (UNFCCC), brings together sports organisations, teams, and athletes from around the world to work collectively in addressing climate change. By joining this powerful movement, UTSNZ aims to demonstrate its commitment to reducing carbon emissions, promoting environmental stewardship, and inspiring positive change.
Climate change is one of the most significant challenges of our time, and the sports industry has a vital role to play in raising awareness and driving action. UTSNZ recognises the potential of university and tertiary sport to act as a catalyst for change, influencing the wider community and nurturing the next generation of climate-conscious leaders.
"With the intensity and frequency of extreme weather events seen in New Zealand and worldwide in these past months, the only conclusion is that sustainability is no longer a choice but a must" confirms Executive Director Sarah Anderson.
"It is also of significant importance to our New Zealand universities, the majority of whom have sustainability policies of their own, which set out a clear vision and set of principles to guide their actions in supporting sustainability and improving their environmental performance" explains Anderson.
"Becoming a signatory of the Sports for Climate Action Framework is a first important step. Alongside this we have incorporated sustainability and climate action into our business KPIs, aligning with key strategic objectives with the United Nations Sustainable Development Goals", says Anderson.
"We are committed to this journey and look forward to collaborating not only with our International Federation – FISU (also a signatory), but with other sports federations from Oceania and across the globe to drive global climate action".
"Sport in general, can play a key role in the process raising awareness, influencing behaviour, and shrinking its carbon footprint. University sport in particular, can also play an important role in educating and working with the next generation of leaders within sport to champion and inspire change. A key objective will be to raise awareness among our participants and partners to inspire them to increase their own climate ambition" Anderson added.
UTSNZ Student Athlete Commission representative Josiah Leigh, also supports the announcement.
"As a New Zealand university student and passionate advocate for a sustainable future, I applaud the decision of UTSNZ to join Sport for Climate Action Change. Sport has the ability to inspire and unite people. By integrating climate action into university and tertiary sport, UTSNZ has the potential to engage and educate a vast number of students, athletes, and spectators, amplifying the impact of their message. It also demonstrates their dedication to not only athletic excellence but also to being responsible global citizens" says Leigh.
Through its membership in Sport for Climate Action Change, UTSNZ pledges to undertake the following five principles:
Promote greater environmental responsibility within the university and tertiary sports community.
Reduce greenhouse gas emissions in line with the Paris Agreement targets.
Promote sustainable and responsible consumption and production.
Advocate for climate action through communication and education.
Promote sustainable and nature-based solutions.
The integration of sustainable initiatives will be a key focus for UTSNZ. This includes promoting eco-friendly transportation options for sports events, implementing waste management strategies to reduce environmental footprint, and engaging with students to educate and inspire.
By joining Sport for Climate Action Change, UTSNZ aligns itself with a global community of sports organisations striving for a more sustainable future.
More information on UNFCCC Sport for Climate Action can be found here, including a full list of current signatories.
Posted: Tue 30 May 2023