Canterbury Universities Continue Southern 3x3 Dominance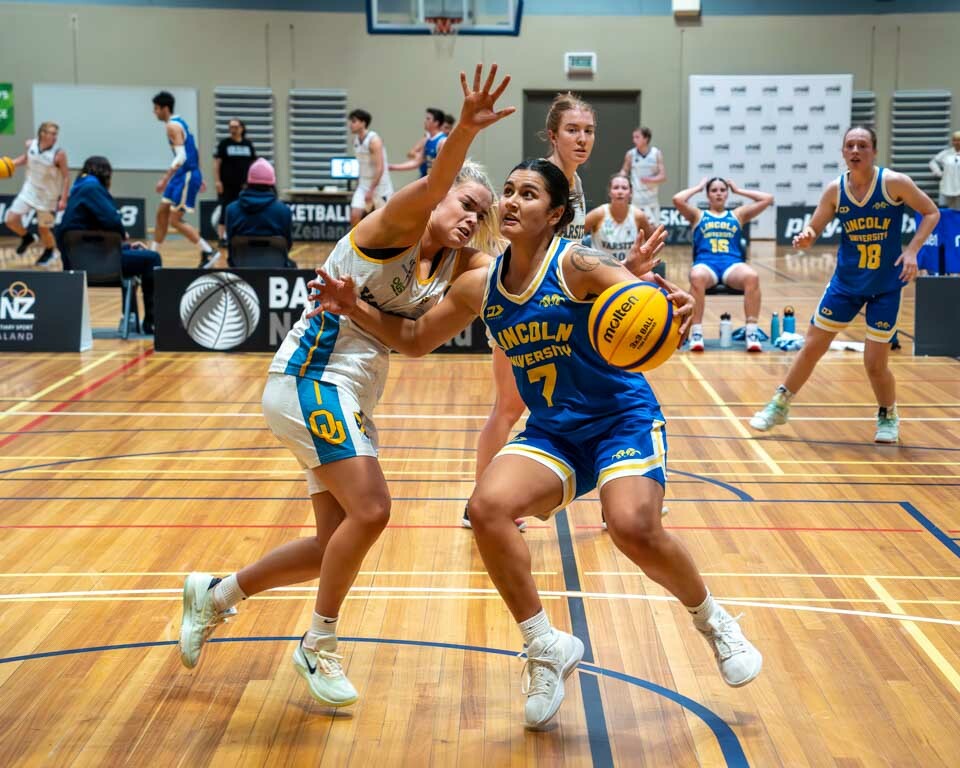 The Lincoln University women's 3x3 team couldn't be stopped, defending the National Tertiary 3x3 Championship and bringing their total number of titles to five. They cruised through pool play on day one with three 21-point matches while conceding a total of only 26 points.
Their toughest test came on day two in the semi-final against the University of Otago which was a tight battle, eventually finishing with a Lauryn Hippolite 2-pointer off a check ball to win it 21-18.
The Grand Final against AUT seemed like it was going to be a formality as Lincoln went ahead 14-6, but a strong fightback from AUT brought it 19-15 before Hippolite once again won it from long range.
In the men's tournament, the University of Canterbury ensured both sets of gold medals were heading down south as they defeated Victoria University of Wellington 21-20 in an epic Grand Final.
Down 12-8 with a little over three minutes played, UC clawed their way back to lead 19-18 to set up the tense finish. As he had done all weekend, Reuben Natusch hit a huge 2 to put Victoria on the brink of victory before some strong defence and layups from Noah Watson and Chris Tupaea earnt UC the title.
All four finalists – Lincoln University women, AUT women, the University of Canterbury men, and Victoria University of Wellington men – will now represent New Zealand in the 3x3 Oceania Continental Qualifying Tournament in Auckland in July. They will be joined by teams from Australia and across the Pacific with the winners earning their spot at the FISU University World Cup 3x3 later this year.
Women's Tournament Results:
1st - Lincoln University
2nd - AUT
3rd - University of Otago
4th - University of Waikato
5th - University of Canterbury
6th - Victoria University of Wellington
7th - Massey University
8th - University of Auckland
Men's Tournament Results:
1st - University of Canterbury
2nd - Victoria University of Wellignton
3rd - University of Waikato
4th - University of Auckland
5th - AUT
6th - Lincoln University
7th - Massey University
8th - Invitational Men
Women's Tournament Team: Azure Anderson (AUT), Lauryn Hippolite (Lincoln University), Olivia O'Neill (University of Otago), Rosalia Samia (Lincoln University)
Men's Tournament Team: Daniel Dobson (University of Waikato), Reuben Natusch (Victoria University of Wellington), Aidan Tonge (University of Canterbury), Chris Tupaea (University of Canterbury)
Shootout Competition winners: Luye Murphy (AUT) and Junior de Young (University of Canterbury)
Spirit Award winners: Massey University women
Full draws and results: https://play.fiba3x3.com/events/5e93d4fc-a4db-45c8-b5ae-1ae755f23c11
Day One live stream replay: https://www.youtube.com/live/-8XSK7RMfWM
Day Tow live stream replay: https://www.youtube.com/live/SV1fTZoUIqA
Posted: Wed 24 May 2023