Official dates of second FISU University World Cup Football announced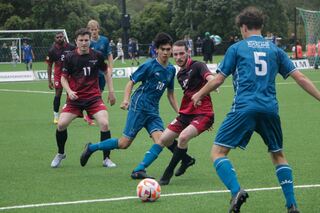 The 2023 FISU University World Cup Football will be held on 21-31 October, 2023 in Jinjiang, China.
Due to the COVID-19 pandemic, the second edition was postponed from 2021 to 2023. It has been four years since the first FISU University World Cup Football successfully took place in 2019 in the same host city.
A total of 16 men's teams and 8 women's teams from the five continents will gather in Jinjiang to fight for the supreme honour of university football and offer another spectacular competition to the world.
New Zealand and the Oceania region will be represented in the men's competition by Waipapa Taumata Rau - University of Auckland, who successfully defeated both the University of Canterbury in the national qualifier event, as well as Western Sydney University from Australia in the FISU Oceania qualifier held in 2022.
In the women's competition, the Oceania qualifying spot was awarded to Sydney University (AUS) who defeated the University of Canterbury women's team during the 2022 qualification process.
As a result of successful qualification, participating teams will have flights and full board (accommodation, meals and local transportation) costs covered for a maximum eighteen (18) athletes and five (5) officials per team by FISU and the Organising Committee.
Currently, the preparations for the event are well underway with the combined efforts of the host city, the Federation of University Sports of China, and other stakeholders, under the guidance of FISU.
The final University of Auckland men's side is due to be announced following upcoming trials in May.
Posted: Wed 26 Apr 2023