University of Auckland - Waipapa Taumata Rau Defend National Netball Title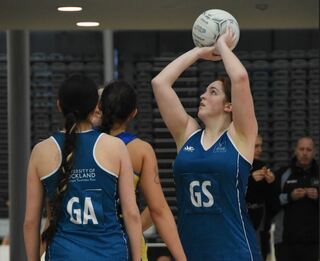 Seven of New Zealand's eight universities took to the courts at the ASB Sports Centre over the weekend to contest the 2022 National Tertiary Netball Championship. In addition to member universities, UTSNZ was delighted to include a local Wellington Invitational team made up of both community and secondary school netballers to round out the two pools.
Pool games were played at a high intensity throughout and many contests came down to the wire with University of Auckland, Massey University and Lincoln University all going through undefeated.
Semi-finals saw the University of Auckland going through comfortably to the final winning 36-27 against AUT, while Lincoln University held on by just one goal winning 20-19 over Massey University.
After securing the final berth by one goal in the semi-final, underdogs Lincoln University put up a brave challenge against the University of Auckland but their northern rivals proved their staying power and dominance ultimately winning 40-25 to take out the 2022 title.
In the bronze medal match, it was Massey University taking home the medal winning 34-21 over AUT.
With a couple of premiership players and age group regional representatives in attendance, the high quality of netball on display across the whole tournament made it tough for selector Waimarama Taumaunu to pick a tournament team. Final selections included:
GS: Crystal Maro (University of Auckland)
GA: Emily Hargreaves (Lincoln University)
WA: Storm Collings-Gilmer (Massey University)
C: Suraya Goss (Massey University)
WD: Courtney Katterns (University of Auckland)
GD: Charlotte Knight (Lincoln University)
GK: Catherine Hall (University of Auckland)
Full coverage of all games can be re-visited at Sky Sport Next via the following links:
Day 1 https://youtu.be/fEQ-xXbwpBM
Day 2 here https://youtu.be/oFpMbrbWpRg
Final Placings:
1st University of Auckland
2nd Lincoln University
3rd Massey University
4th AUT
5th University of Waikato
6th Victoria University of Wellington
7th University of Canterbury
Posted: Sun 25 Sep 2022