University of Auckland Flood Claim Tertiary Ultimate Title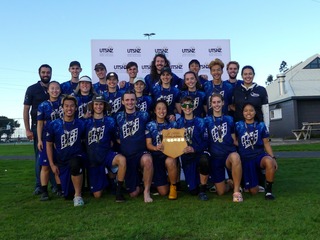 After a two year absence, over 200 excited student-athletes took to the fields at the University of Waikato for the 2022 NZ Tertiary Ultimate Championships. An exciting final saw the University of Auckland Flood team claim the title and the gold medal, winning 15-12 over the University of Otago Toroa. The University of Canterbury Honey Badgers claimed the bronze medal and University of Canterbury Pythons were recognised for their outstanding sportsmanship with the Spirit of the Game Award.
Visit the NZ Ultimate website here for a full wrap up on the event.
Posted: Mon 29 Aug 2022