New Student Representative Welcomed to the UTSNZ Board of Directors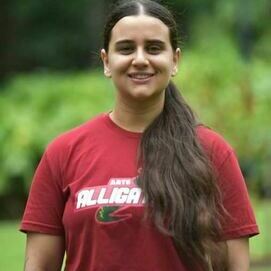 UTSNZ's vision is New Zealand university and tertiary student wellbeing enhanced through sport. This goal will only be achieved if students get value from the sporting opportunities offered to them.
To help achieve the goal above, the UTSNZ Board is structured in a way that ensures the collective interests of students, members, national sport organisation partners and key stakeholders are represented and understood. This includes the appointment of two Board Members who are enrolled university or tertiary institute students.
UTSNZ is excited to welcome Narise Hansen to the Board this month, joining fellow student representative Jason Nel from Victoria University of Wellington.
Narise is a third year Bachelor of Arts student majoring in English and Drama at the University of Auckland. Since the beginning of 2022, Narise has been a Sports Leader for the Faculty of Arts and is involved in both social and tertiary sports teams.
Prior to attending university, Narise worked at Kamp Kiwanis, an NGO outdoor education camp in Alberta, Canada from 2016 to 2019. The positions she held included Day-trips Coordinator, Adventure Coordinator and Leadership Coordinator. Her time at the camp helped her form a passion and commitment to working with young people and being in the outdoors.
Narise has participated in sports since a young age and has represented Auckland twice in National Age Group football tournaments. In 2012, she represented Singapore in the Gothia Cup in Sweden, a World Youth Football tournament. She is still active in the sporting community, competing in Ultimate Frisbee, Waka Ama and Football.
Narise is passionate about youth and young adult participation in sport and recreation and believes that involvement is a lifelong journey.
"There is a significant drop off in sport participation once young people finish high school and the provision of appropriate pathways for students to continue to engage with a competitive sporting environment are important" says Narise.
Narise begins her tenure with the UTSNZ Board in August and looks forward to being part of the leadership team guiding UTSNZ strategy.
END
More information on the UTSNZ leadership team can be found at www.utsnz.co.nz/our-team
Posted: Wed 10 Aug 2022