National Tertiary Championship Series set to tip off with 3x3 Basketball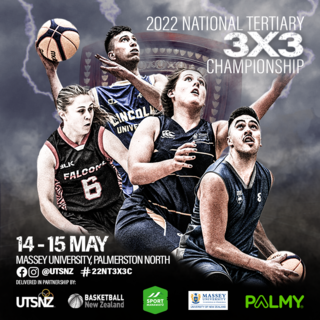 Catch all the action this weekend as Massey University hosts the National Tertiary 3x3 Championship, tipping off the first of UTSNZ's National Tertiary Championship Series events for 2022.
With support from Sport Manawatu and the Palmerston North City Council, this is the first time the inter-tertiary 3x3 event has been held in the Manawatu and it's shaping up to be tough contest.
Eight teams in each gender will compete across the two-day tournament, with all teams looking to make their mark this year with a spot at the FISU 3x3 University World Cup in Xiamen, China in October up for grabs.
Defending champions, the University of Canterbury (women) and the University of Auckland (men) are hopeful of back-to-back titles and despite the on-going restrictions presented by Covid19 early in the university semester. Selected players have remained focused on training to ensure they perform to the high standards they set themselves when representing their university at the national level.
"We are looking forward to defending our 3x3 title in Palmy. We have been training hard and keeping the intensity high for us to compete to our full potential. We feel good and are ready to step up to the challenge against other teams" says Jeremy Mcintosh from the University of Auckland.
The National Tertiary 3x3 Championship event forms part of UTSNZ's national inter-tertiary events programme which is being launched as a collective series for the first time in 2022.
"Competition within each individual championship sport is fierce, with inter-tertiary rivalries strong among players who have continued to face off in their chosen sport as they transition from secondary to tertiary sporting environments.The rivalry generated within individual sports however, almost second to that which may be achieved through a collective championship event series", explains UTSNZ Executive Director Sarah Anderson.
The collective championship series which will see all UTSNZ National Tertiary Championships broadcast via Sky Sport Next in 2022 provides an opportunity to significantly improve the attention and viewership of inter-tertiary sport across the country.
Not only will New Zealand student tertiary athletes be provided with a 'bigger stage' and supporters with increased access to view the impressive talent existing within New Zealand tertiary institutions, the series will help build a following throughout the year and through a ready built fan base on campus. The sense of pride in representing one's university and the longstanding rivalry that exists between New Zealand universities being a valuable motivator.
Head over to the BBNZ website for a full announcement on the draw, as well as the schedule and team rosters https://nz.basketball/draw-announced-for-upcoming-national-tertiary-3x3-championships/.
Posted: Tue 10 May 2022