UTSNZ Esport Challenge Series to kick-off with FIFA 20 Tournament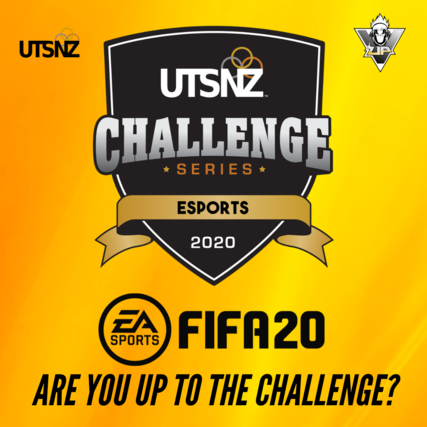 The 2020 UTSNZ Esport Challenge Series will kick off this week with 32 students from across the country set to compete for the first ever national tertiary esport title. Player registrations for the inaugural FIFA 20 tournament closed at midnight on Sunday night with the last few coming through in the final hours, setting up the bracket which will begin on Wednesday.
Seven of UTSNZ's eight member universities will be represented in the tournament with participants also coming from Otago Polytechnic, the Southern Institute of Technology (SIT), and the Universal College of Learning (UCOL). AUT is winning the numbers game with six registered participants, followed closely by the University of Otago and Victoria University of Wellington with five apiece.
Participation by students from institutes of technology and polytechnics is one of the key benefits of the new Challenge Series of events as it aims to boost participation and engagement of tertiary students in sport and recreation across New Zealand. With no cost to register and game times agreed upon by the two competitors, the barriers to participation have been stripped away.
For the first round of matches, participants are assigned randomly to each other in the tournament bracket and play head-to-head in a best-of-3 series. There are defined game lengths, rules around what teams can be used, and specified overtime rules should it be required. The first player to record two match wins progresses from each match-up and moves forward to the next round. This means the tournament halves in size each round, with the champion being the last one standing.
When asked what he thought about competing against other New Zealand tertiary students in the virtual realm, University of Waikato student gamer Campbell Knowles confirmed the appeal. "I think it's a great opportunity not only for students who have been competing in esports for a fair bit, but also those looking to start competing. It gives them a chance to test themselves against others around them in a friendlier environment and helps establish friendships with like-minded people" said Knowles.
This year's FIFA tournament is being delivered by Wellington-based esport company and online platform provider, Victory Up, with other tournament titles to be announced soon. With esports experiencing huge growth at high schools and tertiary institutions throughout the country, it's expected that the UTSNZ series will continue to expand in line with that growth moving forward.
Stay up-to-date with results of the FIFA tournament via the UTSNZ Facebook page or the Victory Up tournament website.
Posted: Mon 03 Aug 2020