World University Games NZ Flag Bearer Announced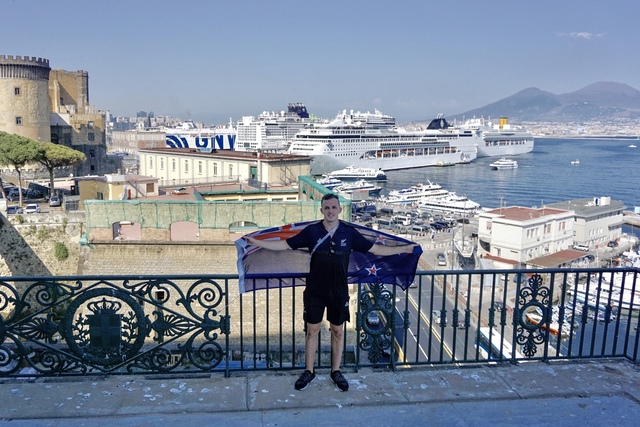 We are pleased to announce that decathlete Aaron Booth has been nominated flag bearer of the New Zealand delegation for tomorrow's opening ceremony of the 2019 Napoli World University Games.
22-year-old Booth competed in the last two World University Games, finishing 13th at Gwangju 2015 (South Korea) and winning bronze at Taipei (Taiwan) two years ago. It was the only medal brought back by the New Zealand team.
A former Massey University student, Booth moved to the USA last year where he joined Kansas State University to pursue a business degree. Since then, Booth broke the New Zealand heptathlon record last January. Last month in Austin at the NCAA Division 1 Outdoor Track and Field Championships, he set a new personal best with a score of 7,680 points, giving him the fifth best decathlon score in New Zealand history.
Tomorrow in the 60,000 seat San Paolo Stadium, Booth will lead the Kiwi delegation of 68. "It's gonna be huge. I never thought I'd get the chance to carry the flag, it's such a big event for New Zealand. I'm super proud and humble to be able to have the responsibility for this", explains the former Waitakere City Athletic Club athlete, who aims for gold in Naples. "I'd like to show other countries and the rest of the team the way to carry yourself in an international competition."
The flag bearer naming took place in the iconic National Library of Naples. During the ceremony, head of delegation Evelyn Williamson found it "inspiring to hear him speak of his previous and contrasting two Universiade experiences, and how he has developed as an athlete and the enjoyment he has experienced being part of a wider New Zealand team. It's great that Aaron is ready to share that knowledge and experience with other up-and-coming athletes in our team."
The opening ceremony will be broadcasted live on the Olympic Channel, tomorrow from 9pm local time (7am NZ time).
Posted: Tue 02 Jul 2019