NZ students and staff stand to gain from joint event focus of renewed FISU Oceania-Asia collaboration
FISU Oceania and Asia University Sports Federation (AUSF) have signed a two-year extension to the current Memorandum of Understanding which was instigated in 2016 as a trial. The agreement, which was signed by Presidents Martin Doulton and Xue Yanging on 19 October at the AUSF General Assembly in Kuala Lumpur, will steer the two International University Sports Federation (FISU) affiliates through to 2020.
At the Assembly in Malaysia last week where 90 delegates from 24 FISU nations convened, the two continental federations presented a joint report citing the success of recent key joint projects; the joint FISU-NUSF (National University Sports Federation) seminar which was held in December 2017 and the Futsal and Cheerleading Asian Championships.
AUSF and FISU Oceania discussed working together on more joint projects over the next two years. This is formalised via the new MoU which aims to benefit Oceania student-athletes by:
Allowing students from FISU Oceania opportunities to participate in continental championships
Enhancing the competition level of AUSF Championships by inviting the top qualifying teams from FISU Oceania
Holding joint events between AUSF and FISU Oceania
Increasing the number of potential hosts of AUSF Championships with the involvement of FISU Oceania
Guaranteeing the equal rights of Oceania members in participation and hosting of joint events with AUSF
Inviting at least two people from each region to attend their activities and Executive Committee meetings as official observers in 2019 and 2020.
Nicola Clayden, UTSNZ Board Chair, attended the Assembly to represent New Zealand and Oceania's interests alongside UniSport Australia. Clayden believes that local student-athletes stand a lot to gain: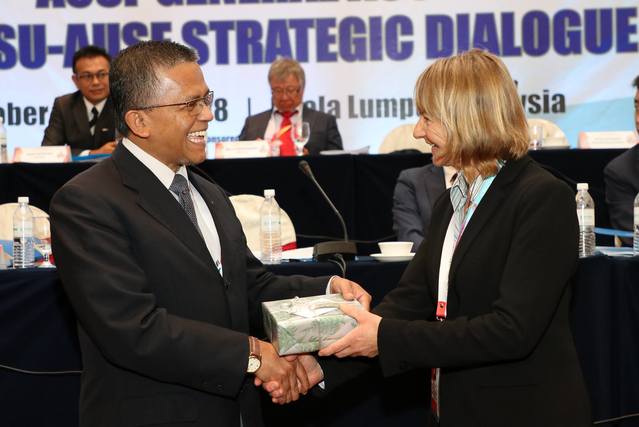 "This new agreement intends to open up potential pathways for FISU Oceania students to engage with Asian universities and have access to some of their events, as the World University League does now with both Lincoln University and the University of Auckland heading to Xiamen, China next month to contest that 3x3 competition."
"The MoU will also create more educational opportunities for UTSNZ staff and member representatives to travel and take part in joint AUSF-Oceania conferences and other developmental events in the Asia-Pacific region," said Clayden.
While the MoU will potentially provide local student-athletes with new opportunities to compete in Asia, the relationship between the two regions is a mutually beneficial one observed Clayden:
"New Zealand and other Oceania countries are traditionally small both in terms of membership, government funding and population. We admire the level of government and corporate investment going into university sport in some Asian countries right now. And being part of regional events is an incredibly culturally enlightening experience for us kiwis to be a part of."
"However, the Asian representatives want to learn from New Zealand and Australia too. We are seen to be very organised in terms of sport management. We have good processes and they are interested in how we can support their professional development in those areas."
The General Assembly was a major FISU calendar event, as evidenced by the attendance of FISU 1st Vice President Leonz Eder and FISU Secretary General Eric Saintrond.
Background
Since 2007, AUSF and FISU Oceania have been affiliated to FISU under the status of Associate members.
AUSF, was founded in 1992 and has affiliated 38 country/region members.
FISU Oceania was established in 2007 with 11 NUSF member countries, and one affiliated country.

Posted: Fri 26 Oct 2018