Full-time student-triathlete has unfinished business at world uni champs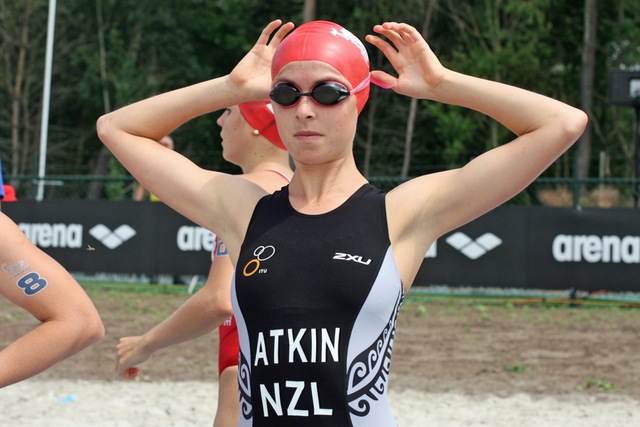 Triathlon NZ has named Kiri Atkin as the sole New Zealand representative at the 2018 FISU World University Triathlon Championships to be held in Kalmar, Sweden 1-2 September.
The University of Canterbury (UC) commerce student attended the World University Triathlon Championships in Nyon, Switzerland in 2016, along with Maddie Dillon and Zac Barber, in New Zealand's biggest ever tri team to have attended the event.
The 21-year-old has just come back from two months in Europe training with the Dutch triathlon team. Kiri competed in four races while there, including the 2018 Wuustwezel ETU Sprint Triathlon European Cup where she raced through crowded Belgian villages to come third, about 40 seconds behind the winner – NZ's Nicole van der Kaay.
Considering that Kiri is a full-time student this result is even more impressive.
"It's pretty hard to study and train. As you have to prepare in three disciplines, I spend at least 20 hours a week training. I don't have time to work, for example. Most of the athletes on the world circuit are professional athletes," explains Kiri.
This top-three result was also a big confidence boost after 2017, when Kiri couldn't train for eight months due to injury, and 2016, when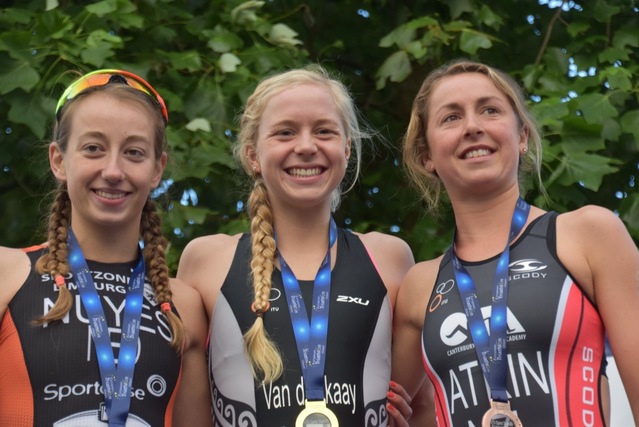 she was unable to finish the World University Championship race in Nyon. Recalling her experience two years ago still causes Kiri to grimace as, despite a "decent" swim, she was involved in a bike crash that left her standing on the side of the road watching everyone else bike past.
"The spokes on my wheel broke and my wheel tapped two others and so we all crashed. The mechanical station was 10kms away, so I couldn't get my neutral wheel and finish the race. I felt so upset and so angry as it was out of my control."
The trip wasn't all negative though. Thanks to the UC exchange programme, Kiri tied it in with an exchange to Sciences-Po in Aix-en Provence, France where she could put into practice her French language skills (she is a Taxation and Accounting major but is studying French as well).
Another silver lining was that Kiri made a good friend out of Jana Machacova, a Czech competitor. They have stayed in touch since and done several training camps together.
Kiri's athletic success has been supported by the University of Canterbury both in terms of study and employability.
"My lecturers have been pretty understanding and I was able to submit papers online while I was in Europe. I've also been able to sit tests and conduct presentations earlier due to travel commitments."
Through the UC Business internship programme, Kiri undertook a three-month, full-time internship at Deloitte last year. While this threw up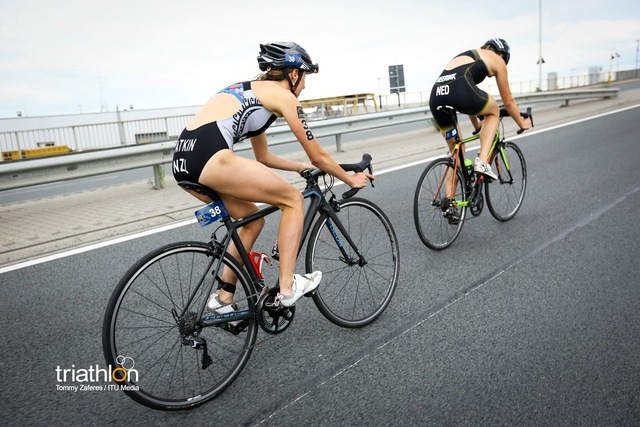 challenges, such as what time she had to get up to fit in her training before work (5am!), it also gave her the opportunity to see what a post-triathlete career might look like. Consequently, Deloitte has offered her a position upon graduation at the end of this year. The internship helped Kiri realise that she needed a bit of flexibility in order to fit in her current training schedule and work, so she was able to negotiate a pared back agreement and flexible hours with the company.
Kiri's experience in sport has taught her to have confidence in herself, to focus on what she can control and to expose herself to as many opportunities as possible. These attributes will stand her in good stead for the world of work as well as the World Uni Champs where she hopes to "put everything together to get a top ten finish."
Background
Like the Commonwealth Games, this year's World University Championship will feature an individual sprint race as well as a mixed team super sprint. This is a change from 2016, where the race was a standard triathlon distance. Kiri acknowledges there is a "big difference" between the two, but she is getting used to the shorter distance. "All the world series events are now sprints. It's more spectator-friendly."
Men's and women's Individual race: sprint distances (750 m swimming, 20 km cycling and 5 km running). This is half the distance of the standard triathlon distance.
Mixed team relay: Super sprint distances (250 - 300 m swimming, 5 - 8 km cycling and 1.5 - 2 km running).
Find out more at www.wuctrikalmar2018.com
Posted: Tue 31 Jul 2018