Competing in the home of karate will realise a dying mentor's wish for one NZ student and a step towards Tokyo 2020 for another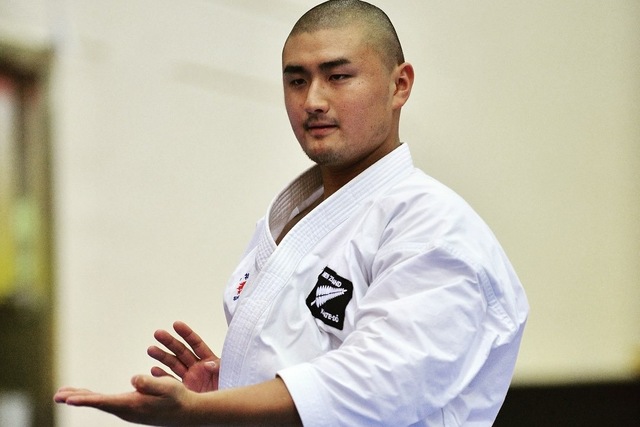 In just over a month's time the 2018 FISU World University Karate Championships will be hosted in Japan, the traditional home of karate.
The following tertiary competitors have proven themselves to Karate New Zealand over the past year of selection and will now take on the world's best in Kobe city in July:
Male Kumite (fighting) -84kg: Reid Edmond (University of Auckland)*
Male Kata (patterns): Isaac Hoshi (Monash University)
Reid Edmond* is studying a double degree in Communication and Music at the University of Auckland. The Christchurch-raised, Christs College-educated black belt has won six age group National titles and took out the Senior Men's silver medal at the New Zealand Open last year. Alongside regional and national championship medals, Reid has performed internationally. In 2016 he was placed third in the Junior Kumite 76+ kg category at the Oceania Championships. Three years earlier, Reid placed first at the Karate Commonwealth's in Canada in the 14-15 years -63 kg group.
Originally hailing from Auckland, Isaac Hoshi is undertaking a Bachelor of Science honours degree in Materials Chemistry at Monash University, Melbourne. While currently in his third year of study, he is also part of the University's Elite Student Performer Scheme. Late in 2017, after contesting the X WKF Junior, Cadet &U21 Championships in Spain, Isaac paid tribute to Monash for supporting his re-entry into karate just one year prior:
"Competing on a world stage just one year after getting back into karate is mind blowing for me with how far I have come. I hope to continue this long journey and represent Oceania at the Tokyo 2020 Olympic Games."
Like Reid, Isaac began as a youngster and his international record goes back to 2012 where he contested both kumite and kata forms of the sport as a New Zealand junior at the Oceania Championships. Now a kata (non-fighting) specialist, Isaac secured third place at the 2017 Senior Oceania Karate Championships. His renewed commitment to the sport saw him travel to Germany, Dubai and Japan last year to compete in the prestigious Karate 1 Premier League and Series A events.
Isaac will prepare for the FISU World University Karate Championships by travelling to Japan in early July to train with the Japanese university karate team and coaches.
The New Zealand team manager, Dean Wiseman, is an internationally experienced karate coach who has played and coached in Europe and New Zealand for over 30 years. Though this is his first time travelling to a World University Championship, Dean is familiar with both Isaac and Reid:
"I've seen these guys come up the ranks as youngsters – they have stuck at it and have a good work ethic."
Dean says that Reid is a "freak athlete with loads of natural ability" and Isaac is "training at the highest level right now".
On a sentimental note, Reid has never been to Japan before. Sensei Pat McGregor, who founded Dean and Reid's club Jitsuei Kai Karate Christchurch, was a big influence in both of their lives. Before Pat passed away in 2015, he said to Reid "you must get to Japan". This trip from 19-22 July will fulfil that dying wish.
For more information about FISU's international sporting events for tertiary students visit our International Events page.
* UPDATE 18/7/18:
Due to the ongoing effects of a previous injury, Karate NZ have decided to remove Reid Edmond from the New Zealand team competing in this championship. This is no reflection of Reid's enthusiasm, commitment and performance. Reid is travelling with the NZ tertiary team and will be conducting official duties as the Team Leader in Kobe.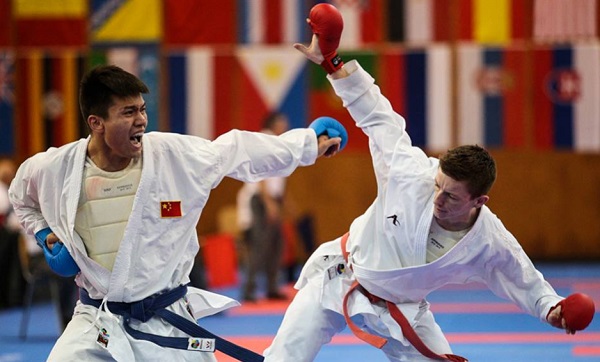 Notes:
Top image: Isaac Hoshi
Middle video: Reid Edmond
Bottom image: Barney Gill on right
At the 2016 World University Karate Championship in Braga, Portugal, New Zealand kumite specialist Barney Gill won a bronze medal in the -67kg category. Barney (pictured on the right of this picture) was one of six tertiary students representing New Zealand at the Championships.
Posted: Wed 13 Jun 2018