Kiwis set to face a "ridiculously high" level of competition on German sand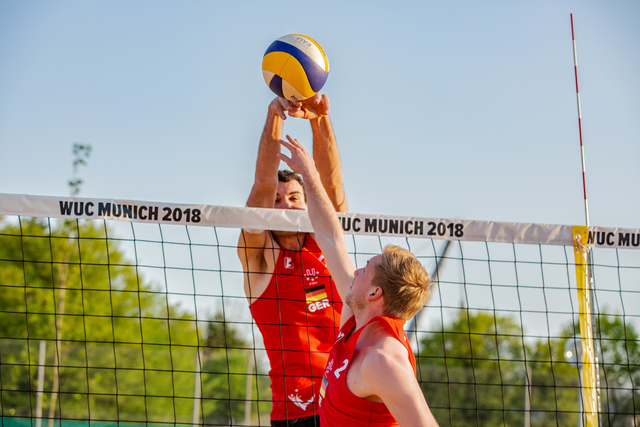 The FISU World University Beach Volleyball Championships 2018 will be held in Munich, Germany from 9-13 July.
The New Zealand tertiary team members have been announced by Volleyball NZ, in what will be the first team to represent NZ at these world championships in 10 years. The pairs are as follows:
Men
Tom Hartles (graduate of University of Auckland)
Alani Nicklin (University of Auckland)
Women
Alice Bain (graduate of University of Waikato)
Olivia MacDonald (University of Arizona)
Recent University of Auckland graduate Tom Hartles has experience of international university competition, having attended the 2013 World University Games in Kazan (Russia) where beach volleyball was included as an optional sport. Along with his partner Jesse Hawkins, they made it out of pool play and lost to Russia who ended up claiming the bronze medal. Back in 2013 Tom said of his experience:
"We played Russia 1 and Russia 2 on center court [sic] in front of huge crowds. It was so awesome with the cameras right up close replaying points up on the big screen in slow mo and the serve speedo telling us our serves go 100mph. Really good learning experience playing in that pressure cooker with the crowd fully against us screaming RUSSIA… We have learned heaps and our game has improved a lot…This tournament is huge."
Tom has been playing on the World Tour over the past few years. Prior to that he was a finalist on the Asian beach volleyball tour in 2014.
The commerce and property graduate balanced his studies and international touring commitments with success nationally, both on the national beach volleyball tour and as a member of the national men's indoor volleyball team since 2016.
Volleyball New Zealand Project Manager Tim Cleaver acknowledges that even seasoned top athletes such as Tom will have their work cut out for them on the man-made beach in Munich's Olympic Park:
"The World Uni Champs is played at a ridiculously high level of competition. Many past participants are now winning World Tour events."
Joining Tom in a new pairing will be University of Auckland student Alani Nicklin. The long-time North Harbour indoor club rep had a strong showing last year, winning a University Blues award for volleyball and making it into the national men's indoor volleyball team.
Alice Bain and Olivia MacDonald will pair together in Munich before basing themselves in the Netherlands to play some Dutch tour events.
University of Waikato teaching graduate, Alice Bain, has played on the beach volleyball World Tour since 2013. She has partnered with Julia Tilley for two years and together they have been New Zealand Beach Volleyball Tour Champions. The pair compete on the Asian circuit and became the first New Zealand women to make an Asian tour final in 2016. They just recorded their best World Tour result at the 6 May two-star Anchor International Beach Volleyball Carnival in Phnom Penh where they lost in the semi-finals to the eventual winners from Germany.
Olivia MacDonald has attended the University of Arizona for four years where she successfully made the transition from indoor volleyball to beach. The Sports and Society major played in the National Collegiate Athletics Association beach volleyball champs and is heading to Europe to compete in the pro circuit.
"Between them, our players have a good mix of experience. This World Uni Champs gives our guys a chance to make an impact in round play. The format also allows for them to form friendships, which is an important part of international touring," said Cleaver.
For more information about FISU's international sporting events for tertiary students visit our International Events page.
Posted: Tue 29 May 2018