New memorandum recognises the importance of school-tertiary sport links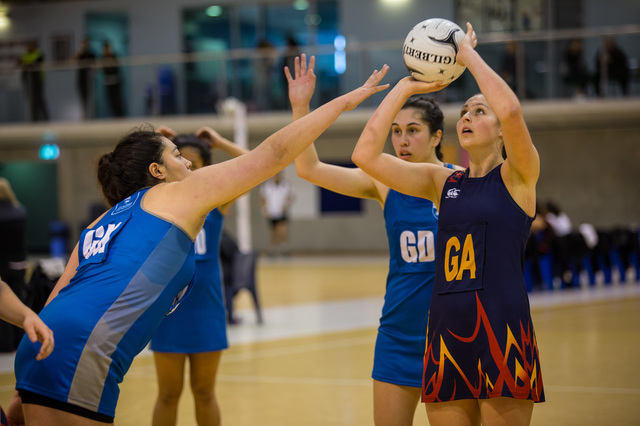 University and Tertiary Sport NZ (UTSNZ) has signed a three-year Memorandum of Understanding with the New Zealand Secondary Schools Sports Council (NZSSSC). The MoU strives to enable and deliver opportunities which will retain school leavers in sport and create sustainable sporting pathways between secondary schools and tertiary institutions.
This agreement ties in with the Sport and Recreation Minister's recently defined priorities for the sport sector. In his letter to Sport NZ in May, Hon Grant Robertson set out four priorities he would like to be tackled. One of these is to address the drop off in young people's participation in sport and physical activity once they leave school.
There is a high uptake in sport at primary and secondary school level, with the number of national secondary school competitions having increased by 60% in the 10 years to 2018.
"With such high levels of sporting participation in our secondary schools and the significant number of those students entering the tertiary sector, the tertiary sports space is hugely important in both keeping young people on a life-long sporting pathway and providing quality opportunities for talented athletes to reach their potential" said Garry Carnachan, Executive Director of NZSSSC.
Over 200 national secondary school competitions are now sanctioned by NZSSSC and played each year. Alongside the usual array of traditional codes, sports as diverse as AFL, curling, clay target shooting, adventure racing, underwater hockey, lawn bowls, waka ama, handball and synchronised swimming are contested by 13-18-year olds across New Zealand. This means more students are coming to tertiary institutions with experience in more sports and the skills to play competitively.
UTSNZ Executive Director Sarah Anderson explains: "There has traditionally been a lack of quality tertiary sport offerings and performance pathways for those students wishing to continue their competitive involvement. This, along with factors such as perceived time and money constraints for students, contributes to a widely acknowledged 'drop off' in student participation in sport at a tertiary-level."
"This drop off has ramifications for the sporting community in general, both on a mass participation and a high-performance level. Many sports acknowledge the gap in continuity between school competition structures and adult sporting communities and are looking to expand their presence and resource in the tertiary space," said Anderson.
UTSNZ and its tertiary members enable the national sporting organisations to bridge this gap by way of competition pathways and sport workforce opportunities. The National Tertiary Championships are an example of quality inter-tertiary competition allowing students to participate in their chosen sport, be it as a player, coach, manager or referee.
Through its affiliation with FISU (International University Sports Federation), UTSNZ also provides opportunities for students to play sport on the world stage or to nurture their sports leadership, media and volunteering skills among global peers.
The MoU between the two entities recognises the need for collective leadership at the national level. This will ensure aligned support for all those involved in secondary and tertiary sport delivery, and a seamless pathway for students who wish to continue to participate, excel and advance in sport as they transition between secondary and tertiary education.
The relationship was strengthened further when NZSSSC Executive Director Garry Carnachan became a UTSNZ board member in November 2017.
- ENDS -
Background
Historically, there has been a gap in government sport strategies and talent development approaches for 18-24-year-olds. While there are talent development strategies for secondary school students (eg, Pathway to Podium) and high-performance programmes for carded athletes there are none for those under the High-Performance Sport NZ radar once they leave school.
UTSNZ can and does endeavour to fill the gap by:
facilitating tertiary sport communications and outputs between tertiary sport departments and national sporting organisations
obtaining important insight into the overall tertiary sport sector
establishing competitive events and maintaining them to a high standard
promoting international development opportunities, in sport and the wider sector workforce
advocating on member institution's behalf to influencers and decision-makers
providing a voice for the top sporting layers of a total tertiary student population that numbers over 330,000 in New Zealand.
The National Tertiary Championships were established as a suite of competitive inter-tertiary tournaments led by UTSNZ in partnership with national and regional sporting organisations. In 2018 the sports to be contested for the Overall University Championship Shield are Women's sevens, 3x3 basketball, Futsal, Table tennis, Badminton, Hockey, Volleyball, Ultimate, 5x5 basketball, Netball.
As the main affiliate to FISU (International University Sports Federation) UTSNZ also enables homegrown student sporting talent to take to the world stage through coordination of NZ involvement in the World University Games, World University Championships and Leagues.
For more information contact UTSNZ Marketing and Events Manager Anna Wallace on 027 623 0824 or anna.wallace@utsnz.co.nz
Posted: Fri 18 May 2018