FISU President meets with IOC to chart progress of mutual interests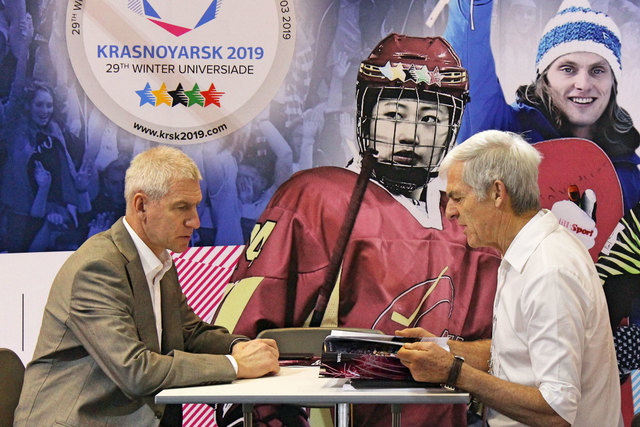 FISU President Oleg Matytsin recently met with the IOC President Thomas Bach to discuss progress against the Memorandum of Understanding signed by the two parties in 2016.
As per the MoU, the 30 April meeting entailed conversations extending beyond the playing field and included discussion on the:
Provision of support to athletes in the areas of education, personal and career development outside of the sports arena to facilitate dual-careers.
Upcoming FISU Volunteer Leaders Academy in June as an example of an educational forum which develops the skillsets of emerging sports management leaders.
Youth Olympic Games in Buenos Aires in October, as the next major multi-sport event that can enable cross-promotion. This will take the form of a University Sports House where FISU will promote university sports and dual careers to athletes and visitors within the Youth Olympic Centre.
FISU says that the above examples "are delivering on its Memorandum of Understanding commitments; to complement sports with academic attainment opportunities."
For a fuller review of the discussion visit the FISU story.
Memorandums of understanding were signed between FISU and the IOC in November 2016, and FISU and ANOC in November 2017. ANOC is the international organisation that affiliates the current National Olympic Committees recognised by the Olympic movement. The memorandums pledged to establish closer cooperation between the signees.
The IOC-FISU MoU outlined three areas for mutual development:
Development of a dual career programme to ensure that athletes' sporting successes are complemented by academic attainment, which will serve as the foundation of their careers after their time as elite sportspeople.
Draw on their respective experience from the Universiades and the Olympic Games to share best practice in sports competition management.
Maximise the contribution of universities to the Olympic Movement through sports development and research.
Matytsin had a busy month having also played a major role in the SportAccord Convention in Bangkok which gathered 1700 representatives from across the international sports movement to discuss a range of topics including opportunities within the Olympic Movement. During this week in April, Matytsin held court with a number of IOC's executives including New Zealand representative Barry Maister ONZM (pictured) who is also the Chair of the Olympic Education Commission.
Notes
FISU = International University Sports Federation
IOC = International Olympic Committee
ANOC = Association of National Olympic Committees
Image: FISU President Oleg Matytsin meeting with IOC New Zealand representative Barry Maister ONZM who is also the Chair of the Olympic Education Commission, at the SportAccord Convention in April.
Posted: Wed 09 May 2018