AUCKLAND UNIVERSITY OVERALL WINNER OF NATIONAL TERTIARY SPORTS CHAMPS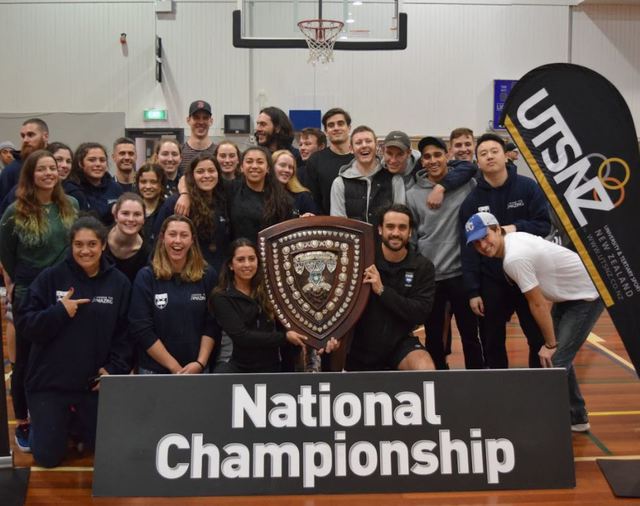 The University of Auckland has once more reigned supreme winning the National Tertiary Championship competition.
It's the second year in a row the university has claimed top spot in the inter-tertiary sporting competition.
Last year, the national championships made a comeback from a five-year sabbatical, after being restarted by University and Tertiary Sport New Zealand, the new tertiary sporting entity charged with reviving competitive inter-tertiary sports.
The University of Auckland students proudly held the 93-year-old shield after facing a more intense competition than in 2016.
The university's sports manager Albie Eaton says the key to their winning streak was communication and organisation.
"All the small details are covered off so the coaches can just 'coach' and the student athletes can just 'play'. We all focus on our roles and we get the best out of everyone," she says.
"Focus on the process and the results will speak for themselves. We set expectations of our students and ensure our coaches and student leaders are on board with that."
Eaton says Victoria University also fought a hard competition and they are the "ones to watch for 2018".
University and Tertiary Sport New Zealand executive director Sarah Anderson says the standard of playing performance has been tougher this year.
"Students are now aware that these events are serious reputable competitive performance events – training harder and taking them more seriously," she says.
Eaton says Futsal was UoA's strongest competition in the tournament. The teams were coached by Futsal Whites captain Marvin Eakins and Futsal Ferns coach Nic Downes.
"We had some excellent students some in leadership roles and our UoA staff were able to assist, create culture and set expectations that all of the players and staff bought together," she says.
The tournament's shield is awarded to the university which accumulates the most points though competing in nine National Tertiary Sport championships held across the country.
The University of Auckland gained a total of 108 points. Victoria University came in second with 65 points, followed closely by Auckland University of Technology with 64 points.
The first inter-tertiary sport competition in New Zealand began 114 years ago. Teams from Canterbury, Auckland, Otago and Victoria competed in athletics, tennis and debating.
This year university students from up and down the country competed in basketball, futsal, badminton, hockey, netball, table tennis, volleyball and rugby sevens events.
More than 900 students took part in the tournament this year. Six hundred and twenty six students took part in 2016.
Basketball proved the most popular event with 15 teams competing and all eight universities in the competition entering men's teams and seven sending female teams to the Christchurch event.
There were 35 games of competitive basketball played over three days at Cowles Stadium.
For the first time, WelTec took part in the National Tertiary Badminton championships and Wintec in the National Tertiary Netball championships. These are the first two tertiary institutions outside of universities to take part in the competition.
WelTec Student Liaison Coordinator, Carmaritta Marshall says it was a great opportunity for students to represent WelTec for the first time at a national level in sport and play against some of the best players in the country. "It will be great to have the opportunity participate again next year and in other sports" says Marshall.
Netballer Emma Smith is equally keen to see Wintec return to the national tertiary sporting stage in 2018.
"We came into the tournament (National Tertiary Netball Championships) nervous and unsure but were ready to give it our all. We may not have come out of it with a win but on reflection, and I think the whole team would agree, we did better than we could have ever imagined and hope to come back next year stronger than ever".
University and Tertiary Sport New Zealand was set up by New Zealand University Vice-Chancellor's in November 2015.
It replaced the former University Sport New Zealand organisation. It is the only national sports body specifically targeted towards the New Zealand tertiary sector.
Its aim is to foster and develop sporting opportunities for all university and tertiary students. The initial focus was to revive competitive inter-tertiary sporting competitions and provide competitive sport for student athletes.
The tournament shield was presented to the winning university, the University of Auckland at the conclusion of the National Tertiary Basketball Championships prize giving in Christchurch on September 25.
An honoury presentation of the shield will also be held at the University of Auckland's annual sports awards on October 22.
A full list of 2017 National Tertiary Championship events and results can be found here.
Posted: Fri 06 Oct 2017