Lincoln University at the World 3x3 University League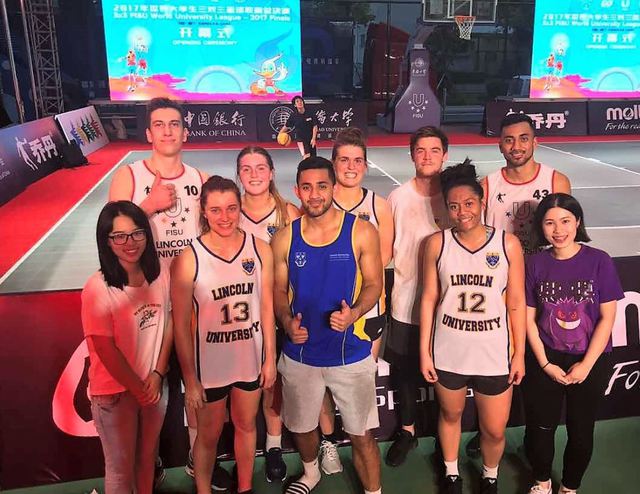 The Lincoln University 3x3 Basketball teams have safely touched down in Xiamen, China, and begun preparations for the start of the FISU 3x3 World University League Finals – which commenced Thursday 14 September.
Hype has certainly begun to increase for the two teams following both the men's and women's teams from LU winning the NZ Championship in April this year.
See TVNZ coverage of the teams build up here.

The LU women's team is made up of Connie Poletti, Caitlin Grice, Bianca Malifa and Sophie Schrader, while the men's team consists of James Cawthorn, Ben Bowie, Ben Wlliams and Josiah Williams. Joshua Thompson and Hoani Smith are handling the coaching, training and managerial roles for the two teams.
You are able to watch the competition unfold by downloading the free "FISU TV" app on itunes or the Google Play store, or by watching via the FISU livestream channel. The full schedule can be seen by clicking here, or just jump online on at the following times to watch Lincoln University play (NZ time/date):
Thursday 14 September
3:20pm LU women vs Uganda Christian University

7:00pm LU men vs Makerere University (Uganda)

9:20pm LU women vs Vasyl Stefanyk Ciscarpathian National University (Ukraine)
Friday 15 September
4:00pm LU men vs St. Petersburg State (Russia)

6:00pm LU women vs Institut Supérieur d'Entrepreneurship et de Gestion –aka "ISEG" (Senegal)

9:40pm LU men vs Macqurie University (Australia)
Saturday 16 September
Sixteenth-Finals from 4:30pm – 10:40pm
Sunday 17 September
Quarter-Finals from 2:30pm

Semi-Finals from 5:30pm

Finals (and third place games) from 7:45pm
http://websites.sportstg.com/assoc_page.cgi?client=0-3995-0-0-0&sID=62583&&news_task=DETAIL&articleID=59581197
Posted: Thu 14 Sep 2017