Flag bearer named for New Zealand Team at World University Games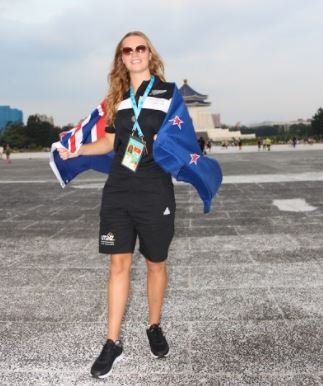 Water Polo player Caitlin Lopes da Silva has been named as flagbearer for the New Zealand Team competing at the World University Games in Taipei, Chinese Taipei.
Captain of the New Zealand Universities Women's Water Polo Team, Lopes da Silva has competed at a FINA World Youth Championships, FINA World Junior Championships, 2 FINA World Aquatic Championships and an Olympic Qualifying Championship for New Zealand.
Chef de Mission Evelyn Williamson says Caitlin was chosen not only because of her athletic achievements, which are impressive, but her discipline, leadership and high standards she displays across the board.
"Caitlin is a genuine and humble person but shows great inner strength and belief in herself and her team mates. She exemplifies all the attributes that are key to being both a successful athlete and one New Zealand can be proud of."
Williamson made the announcement at the welcome function for the New Zealand Team today.
As flag bearer, Lopes da Silva will lead the team at the opening ceremony for the Games, which gets underway on Saturday the 19th at 7pm (11pm NZT).
Lopes da Silva, who has been in the athlete village with the team preparing for their first game against Canada (in which they came out with an experience gaining 15-4 loss) says "I think the World University Games will be one of the most enriching and inspiring experiences for all the young athletes involved."
"The Games offer such a special opportunity to represent our country alongside other athletes from different sports. This aspect of the competition mirrors the Olympic Games, which I think is fantastic as it will give us a little taste of what it feels like to compete in such a grand event. And perhaps provide a greater hunger for us to make our Olympic hopes a reality."
Fifty-seven athletes from 10 sports – archery, artistic gymnastics, athletics, fencing, Olympic weightlifting, speed skating, swimming, table tennis, tennis, water polo are competing for New Zealand at the World University Games in Taipei.
The World University Games is a major international sporting event that is held every two years for student athletes from around the world. This year more than 7,000 from over 130 countries are estimated to be competing in Taipei.
Lopes da Silva is a 2016 bachelor of Arts (Psychology and Sociology) graduate from the University of Hawaii in the United States.
University and Tertiary Sport New Zealand is managing the New Zealand team and carrying out the logistics, taking over from the New Zealand Olympic Committee who led the team for the previous two iterations of the event.
The competition in Taipei runs from 19-30 August.
Posted: Sat 19 Aug 2017