Young Volunteers Make Their Way To Russia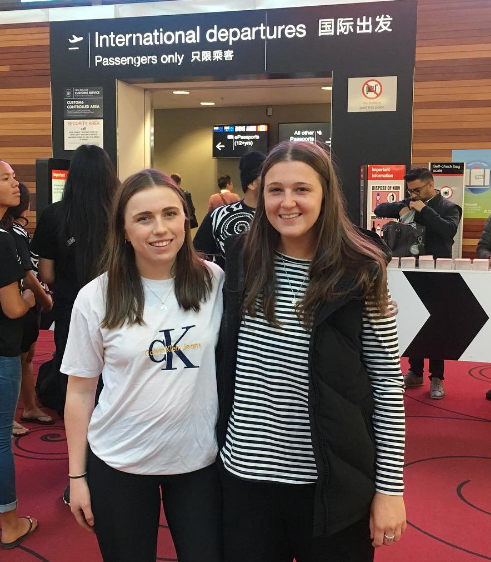 Two university students want other young people to see the important role volunteers play in our country's major sporting events.
Claudia Raven and Amelia Morgan, both 20 years old, will represent New Zealand and University and Tertiary Sport NZ at the first International University Sports Federation (FISU) volunteering forum in Kazan, Russia, from July 2 to 8.
The pair will join representatives from 170 countries, bringing together volunteer leaders in university sports to establish a united international platform for student volunteers.
"The mind set young people have towards volunteering needs to change. People my age don't see its importance," Claudia says.
"Without volunteers big sporting events, like the World Masters Games and the Olympic Games don't happen."
The AUT Sport and Recreation student was chosen by University & Tertiary Sport New Zealand (UTSNZ) as the nominated student to represent the country at the conference. All expenses are paid by FISU.
Claudia, originally from New Plymouth, was selected by a panel consisting of UTSNZ board member Francy Sulikosky and International Olympic committee representative Barry Maister.
Claudia has volunteered at major sporting events, like the World Masters Games 2017 and the New Zealand Long Drive Championships.
She completed more than 100 hours of volunteering last year, mainly through netball, as a player for AUT, umpire and manager for year 8 North Harbour Representative team.
"Volunteering isn't a job, it's a passion. It's about being part of the experience and seeing others achieve greatness," Claudia says.
Claudia left for Russia on the same day a year ago she decided to run every day for a year. She managed to fit in her final run before catching her evening flight.
Amelia, a University of Canterbury law and science student, was planning to self-fund her trip to the conference until FISU agreed to pay for two representatives from New Zealand.
"It's a great opportunity as a University of Canterbury student. We need to do everything we can to regenerate our city with as much knowledge as can and bringing it back to Christchurch," she says.
"I'm looking forward to meeting like-minded people. Volunteering is the bone of any sport success."
Amelia, whose family lives on a Station in the Mackenzie Country, is a competitive athlete in track and field, winning numerous Canterbury and national athletic championship medals in the past.
She was a member of the Athletics New Zealand Potential to Podium squad, but has been struck with injuries for the past two years, resulting in surgery.
This is the first time an international forum has been hosted by FISU and is set up with the cooperation of the authorities of the Republic of Tatarstan, Russia. The aim of forum is to provide professional training for young volunteer leaders capable of creating and organising the work of volunteers aimed at the development of university sports.
The conference is open to 18 to 27-year-old university students and will be staged in Kazan utilising the legacy buildings of the 2013 Summer Universiade. 2013 was the biggest Universiade event ever held with more than 30 buildings built for the games, and 64 venues in four zones across the city.
Go to http://www.fisu.net/news/fisu-volunteer-leaders-academy/fisu-volunteer-leaders-academy-in-kazan for more information on International Federation of University Sport.
Posted: Sat 01 Jul 2017