The University of Auckland is named the UTSNZ Overall National Tertiary Champion for 2016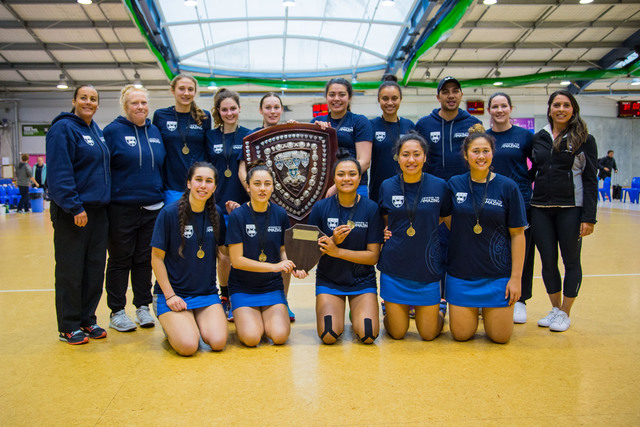 The University of Auckland added two more national tertiary championship titles to the bank at the weekend, with their men's team winning the National Tertiary Hockey Championships in Wellington and their women's netball team being named National Tertiary Netball Champions in Auckland on Sunday.
These titles add to an impressive scoresheet for the year with the university also being awarded National Tertiary Champions in the women's 3x3 Basketball, both the men's and women's Table Tennis and in Badminton (mixed teams) earlier in the year. In addition, University of Auckland teams were runners up in the women's Futsal and Sevens competitions, as well as the men's 5x5 Basketball. They also placed third in the men's 3x3 Basketball, Futsal and Volleyball - each event and top 3 placing accumulating points towards the overall shield throughout the year.
This is the first year of UTSNZ's new national inter-tertiary sport initiative and the tradition of inter-tertiary sport competition in New Zealand is strong. The first competitions began 114 years ago and featured teams from Canterbury, Auckland, Otago and Victoria competing in athletics, tennis and debating. Since then, university sport in New Zealand has evolved. Excited to see the revival of inter-tertiary sport is UTSNZ Executive Director, Sarah Anderson.
"UTSNZ has been set up by New Zealand University Vice-Chancellor's, reflecting the commitment our tertiary institutions have to uphold the tradition and to provide competitive sport pathways for their student athletes. It is fantastic to see this tradition and rivalry revived in 2016."
Delivered predominantly by NSOs and connected to their pathways for participation, the success of each national tertiary championship event and the overall competition is largely attributed to New Zealand's national sporting organisations.
"A huge thanks must also go out to all our national sporting organisation partners who are integral in making this inter tertiary competition happen. The quality of the events and the passion and commitment with which they are delivered is invaluable".
Full results and university standings can be found here.
Posted: Fri 30 Sep 2016